Whole Wheat Chocolate Sheet Cake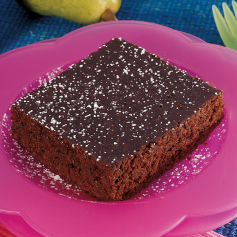 A whole wheat version of the traditional favorite first printed in 1988. This photo and recipe appeared in the national School Food Service and Nutrition magazine.
Ingredients
2 ½ cups whole wheat flour
1 cup granulated sugar
2 teaspoons ground cinnamon
¼ cup baking cocoa
1 cup water
½ cup vegetable oil
1 ½ teaspoons baking soda
1 cup low-fat buttermilk
2 beaten eggs
1 teaspoon vanilla extract
Icing (optional)
¼ cup baking cocoa
½ cup butter or margarine
⅓ cup low-fat milk
3 cups confectioners' sugar
½ cup chopped pecans (optional)
Directions
Preheat oven to 350°F. Mix flour, sugar, and cinnamon together in large bowl. Bring cocoa, water, and oil to boil.
Pour over flour mixture and mix 1 minute, scraping bowl. Dissolve soda in buttermilk, adding to mixture in bowl along with eggs and vanilla. Mix additional 2 minutes.
Pour into greased and floured 10 x 15 x 1-inch jelly-roll pan. Bake 20 minutes, or until done.
Icing: Bring cocoa, butter, and milk to a boil. Remove from heat and beat in sugar and pecans. Frost cake while warm.
Tip: To cut calories, omit icing. Just before serving, sift on confectioners' sugar.
Makes 24 servings
Nutrition information: (one serving without icing): 129 cal, 5 g fat, 18 mg chol, 96 mg sodium, 19 g carbo, 2 g fiber, 3 g pro, 8 mcg folate. (one serving with icing): 215 cal, 9 g fat, 29 mg chol, 98 mg sodium, 32 g carbo, 2 g fiber, 3 g pro, 8 mcg folate.