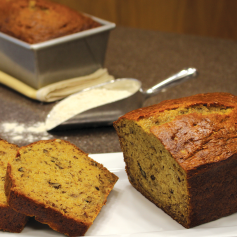 Yield: Makes 1 loaf, 16 slices.
Ingredients
1 cup white whole wheat flour 
¾ cup all-purpose flour 
1 cup granulated sugar 
1 teaspoon baking soda 
½ cup chopped, toasted walnuts (optional) 
1¼ cups mashed very ripe bananas (3 medium) 
¼ cup unsalted butter, softened 
¼ cup unsweetened applesauce 
2 large eggs, beaten 
1 teaspoon vanilla extract 
2 tablespoons low-fat buttermilk
Instructions
Preheat oven to 350°F. Lightly spray with nonstick cooking spray or grease bottom only of 8 ½ x 4 ½-inch loaf pan. 
In large bowl, whisk together white whole wheat flour, all-purpose flour, sugar, baking soda and walnuts. 
In medium bowl, whisk together bananas, butter, applesauce, eggs, vanilla and buttermilk. 
Add banana mixture to flour mixture; stir ingredients together just until combined. Do not over mix batter. Spread batter into pan. 
Bake on middle oven rack 60 to 65 minutes, or until wooden pick inserted in center comes out clean. Check doneness by inserting a thermometer in center of loaf (205°-210°F). Cool 5 minutes; loosen sides of bread from pan using a knife. Remove bread from pan to cooling rack. Cool completely, about 1 hour, before slicing.
Nutrition Information:
1 slice provides approximately:  157 calories, 3 g protein, 29 g carbohydrates, 2 g dietary fiber, 4 g fat (2 g saturated), 31 mg cholesterol, 15 mcg folate, 1 mg iron and 90 mg sodium.
Kansas Wheat Commission Test Kitchen Note: To store, wrap and refrigerate bread no longer than 1 week. May be frozen.