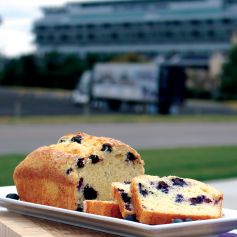 Yield: Makes 1 loaf, 16 slices.
Ingredients
1 large egg 
½ cup granulated sugar 
1 cup 2% low-fat milk 
3 tablespoons unsalted butter, softened 
3 teaspoons baking powder 
2¼ cups all-purpose flour 
1 teaspoon orange or lemon zest 
½ cup fresh blueberries 

Topping: (optional) 
2 tablespoons granulated or sparkling white sugar
Instructions
Preheat oven to 375°F. Spray with nonstick cooking spray the bottom only of 8 ½ x 4 ½-inch loaf pan. 
In large mixing bowl, whisk egg; stir in sugar, milk, butter, baking powder, flour and orange or lemon zest. Mix just until dry ingredients are moistened. Blend in blueberries. 
Spread batter in pan. If desired, sprinkle sugar on top of batter. 
Bake loaf 50 to 55 minutes or until a wooden pick inserted in center of loaf comes out clean. Cool 10 minutes; remove bread from pan. Serve warm, fresh from the oven.
Nutrition Information
One slice provides approximately: 200 calories, 6 g protein, 37 g carbohydrates, 1 g dietary fiber, 3 g fat (1.5 g saturated), 19 mg cholesterol, 55 mcg folate, 2 mg iron and 115 mg sodium.
K-State Research and Extension Tip:
Another way to test for doneness is by checking the internal temperature using a food thermometer. Here are some suggested temperatures for some baked goods: 

Quick bread: 210°F 
Layer cakes: 205-210°F 
Yeast bread: 195-210°F 
Yeast rolls: 190-195°F 
Muffins: 210°F