Healthy Addition Pancakes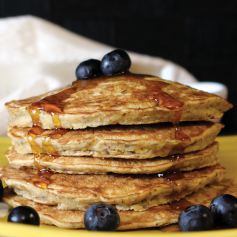 Yield: Makes about 12 (4-inch) pancakes.
Ingredients
1 cup old-fashioned or quick-cooking rolled oats 
½ cup whole wheat flour 
½ cup all-purpose flour 
2 tablespoons milled flax seed or chia seed 
1 tablespoon granulated sugar 
1½ teaspoons baking powder 
½ teaspoon baking soda 
1 cup vanilla almond milk or 2% low-fat milk 
2 large eggs, beaten 
¼ cup unsweetened applesauce 
Instructions
In large mixing bowl, mix together oats, whole wheat flour, all-purpose flour, flax seed or chia seed, sugar, baking powder and baking soda. 
Beat in milk, eggs and applesauce just until combined. 
Grease heated griddle if necessary. (To test griddle, sprinkle with few drops water. If bubbles skitter around, heat is just right.) 
Pour about ¼ cup batter for each pancake onto hot griddle. Cook pancakes until puffed and dry around edges. Turn and cook other sides until golden brown. To keep pancakes hot, stack on hot plate with paper towels in between; place on cookie sheet in 250°F oven. Pancakes may be placed on a wire rack to cool; packaged and frozen. Great served with applesauce or peanut butter. 

Microwave Reheat Directions: 
1 pancake: 20-30 seconds if at room temperature, 35-45 seconds if frozen 
2 pancakes: 35-45 seconds if at room temperature, 1-1½ minutes if frozen 
Nutrition Information:
1 pancake provides approximately: 93 calories, 3 g protein, 16 g carbohydrates, 2 g dietary fiber, 2 g fat (0 g saturated), 31 mg cholesterol, 16 mg folate, 1 mg iron, 132 mg sodium
Baker's Bio
Recipe tested in the Syngenta "Speak for Wheat" Test Kitchen at the Kansas Wheat Innovation Center by Cindy Falk, nutrition educator.