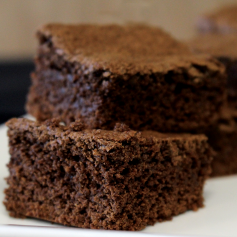 Yield: Makes 16 brownies.
Ingredients
½ cup white whole wheat flour 
½ cup all-purpose flour 
½ teaspoon salt 
½ teaspoon baking soda 
5 tablespoons margarine or butter 
2 squares (2 oz.) unsweetened baking chocolate 
1 cup granulated sugar 
2 teaspoons vanilla extract 
2 large eggs 
¼-½ cup chopped pecans (optional) 
Instructions
Preheat oven to 350°F. Spray an 8 x 8 x 2-inch square pan with nonstick cooking spray. 
In medium bowl, whisk together white whole wheat flour, all-purpose flour, salt and baking soda. 
In large microwaveable bowl, melt margarine and chocolate 30 seconds on High; stir. Continue heating and   stirring until completely melted. Stir in sugar and vanilla. 
Using spoon, thoroughly beat in eggs; stir flour mixture into chocolate mixture and mix until combined. 
Spread batter in prepared pan. If desired, sprinkle on pecans. 
Bake 25 to 30 minutes or until a wooden pick inserted in center comes out clean. Brownies will pull away from sides of pan. Cool completely on a wire rack (about 1 hour). Cut into 2-inch squares.
Nutrition Information: 1 serving provides approximately 137 calories, 2 g protein, 20 g carbohydrates, 1 g dietary fiber, 6 g fat (2 g saturated), 23 mg cholesterol, 8 mcg folate, 1 mg iron, 150 mg sodium.
Kansas Wheat Commission Test Kitchen Note: Recipe may be doubled for a 13 x 9 x 2-inch pan.