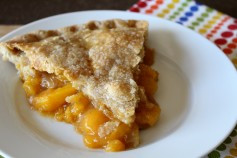 The 1985 Kansas Wheat Commission Recipe book featured this Peach Pie recipe with a tag line:
"The way to his heart".  Credit is given to the KWC Nutritionist at this time, Sharon Patterson Davis, who tested the recipe.  Today, Cindy Falk in the KWC Test Kitchen, updated the recipe by using ½ cup white whole wheat flour and picked the peaches from her trees.  Enjoy this peachy keen pie with a scoop of vanilla ice cream.
Ingredients
Peach Filling:
½ cup granulated sugar
¼ cup brown sugar
3 tablespoons cornstarch or 2 tablespoons tapioca
½ teaspoon almond extract
¼ teaspoon each ground cinnamon and nutmeg, optional
4-5 cups peeled, sliced fresh peaches *
2 tablespoons butter or margarine
Flaky Pastry for 2 crust pie:
1 ½ cups all-purpose flour
½ cup white whole wheat flour
1 teaspoon salt
¾ cup vegetable shortening
5-6 tablespoons ice water
Milk and sprinkle of sugar, optional
Directions
Prepare peach filling.  In large bowl, stir together dry ingredients and mix lightly with sliced peaches.
For crust, combine all-purpose flour, white whole wheat flour and salt in mixing bowl. Using a pastry blender, or two knives, cut shortening into flour until it resembles small peas. Add half of ice water at a time and chase around the bowl with a fork, then add other half. Dough should cling together to form a ball.
 Divide in half and form into flattened balls. Roll out one portion on floured surface to a circle
1 ½ inches larger than inverted 9" pie pan. Fit loosely into pan. Fill with prepared peaches. Dot with butter.
Roll out remaining dough. Cut in slits for escaping steam. Place top crust over filling and trim ½" beyond rim of pan. Seal edge by folding top crust under bottom crust. Flute edge with fingers or tines of a fork.  Brush top of pie with milk and a sprinkle of sugar.
 Bake in preheated 450°F oven for 10 minutes, then 350°F for 30 to 35 minutes or until crust is nicely browned and juice begins to bubble through slits in crust. Cool on rack before slicing.
Yield: one 9" pie, 8 slices.
*Variation: 36-40 ounces frozen sliced peaches—partially thaw and drain, sugar to taste or use ½ cup. 
Nutrition Per Serving: (1 slice, 245 g): 650 calories, 22g fat, 5g fiber, 6g saturated fat, 0g trans fat, 102g carbohydrates, 8mg cholesterol, 298mg sodium, 11g protein, 6mg vitamin C, 5mg iron, 21mg calcium.