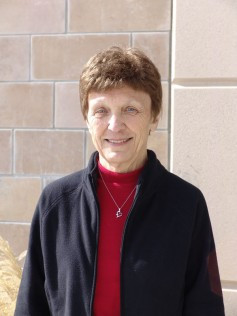 Celebrate π Day with Betty Kandt's Apple Pie
Around our office, we aren't super picky about what wheat foods we eat, but this apple pie set our staff a buzz! Betty Kandt has been a Speak For Wheat Spokesperson for over a decade. During her time with us, she has always spoke kindly of her time as the home economics teacher at Fort Riley Middle School and the legendary pies her students would make. For this year's special Pi Day (3.14.15), Betty agreed to release her tried and tested Apple Pie recipe, and even make it for us!  To learn more about Betty and her lifetime of baking, click here!
click here
.
Ingredients
Pastry:
2 cups all-purpose flour
¼ teaspoon salt
2/3 cup + 2 tablespoons shortening
6 – 7 tablespoons ice cold water
Filling:
4-5 cups, thinly sliced pared tart apples, no thicker than ¼-inch slices (McIntosh, Granny Smith, Golden Delicious, Jonathan, Winesap, Braeburn, Gala)
½-3/4 cup granulated sugar
½ teaspoon ground cinnamon
¼ teaspoon ground nutmeg
1 tablespoon butter
2 tablespoons flour or cornstarch, optional
Directions
Preheat oven to 400° F.  To prepare pastry, combine flour and salt in mixing bowl. Cut shortening into the flour with a pastry blender or two knives until mixture is the size of small peas.
Sprinkle in ice cold water, 1 tablespoon at a time, tossing with fork until all flour is moistened.  Work quickly until dough cleans the side of bowl and forms a ball. Cover while preparing filling.
For filling: place apple slices in medium bowl. Add sugar, cinnamon, nutmeg and flour or cornstarch; toss lightly.
Divide pastry dough in half and shape into 2 rounds.  On a lightly floured work surface, roll out one crust at a time rolling dough from center to outside edges. Pastry should be about 1/8-inch thick and 1-inch larger than pie pan.
Fold crust in half and place in ungreased 9 x 1 ¼-inch pie pan. Place pastry loosely in pan to prevent shrinkage. Betty's Tip:  Sprinkle a couple tablespoons of flour on bottom crust to prevent a soggy bottom crust.   Leave a ¼-inch rim of pastry beyond edge of pan. Trim off any extra edge with a knife.
Pour apple mixture into pastry-lined pie pan. Dot with butter. Dampen the edge of the bottom crust either with water or fruit juice.
Roll out top crust 1-inch larger than edge of pie pan. Make slits in top crust.
Fold top crust down over lower crust, roll and lay to edge of pan. Seal two crusts together by fluting with fingers or fork tongs.
Place a 3-inch strip of aluminum foil shield around the edge of the pan to keep crust from over-browning. Remove foil during last 15 minutes of baking.
 Bake in preheated oven until crust is brown and juice begins to bubble through slits in crust, 50 to 60 minutes. Betty's Tip: Test apples with fork inserted in the slits of the top crust; apples should be tender.