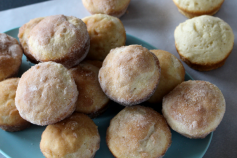 Donuts are still the rage with more donut shops than ever! This recipe first appeared in the 1985 Kansas Wheat Commission Annual Recipe Book. These delectable donuts may not have the hole, but they are so easy to make and are a healthier version with less calories than the typical deep fried ones. 
INGREDIENTS
2/3 cup shortening
1 cup granulated sugar
2 large eggs
1 cup skim milk
3 cups all-purpose flour
4 ½ teaspoons baking powder
½ teaspoon salt
½ teaspoon ground nutmeg
 
Topping:
1/3 cup butter, melted
½ cup granulated sugar
½ teaspoon ground cinnamon
DIRECTIONS
Preheat oven to 350°F.  Spray 24 muffin cups with no-stick cooking spray.
In the bowl of a stand mixer fitted with paddle, blend shortening and sugar together. Add eggs and beat well.
In medium bowl, combine dry ingredients. Add alternately with milk to shortening mixture; beat well after each addition.
Fill the muffin cups two-thirds full. Bake 15 to 17 minutes, until lightly brown. Remove donuts from pan and set aside.
Prepare topping. Dip warm donuts in melted butter and roll in cinnamon-sugar mixture. Serve warm or cool completely and freeze in plastic bags. Reheat later.
Yield: 2 dozen medium donuts.
Nutrition Information Per Serving (1 donut, 56g): 200 calories, 8g fat, .5g fiber, 3g saturated fat, 0g trans fat, 27g carbohydrates, 22mg cholesterol, 532mg sodium, 3g protein, 0 mg vitamin C,  1mg iron, 105mg calcium.