Wheat Breeder, Wheat Miller, Make Me a Match
Posted

November 11, 2014
Overseas Varietal Analysis Program Tests Wheat Varieties for End Product Use
2013 results from the U.S. Wheat Associates' Overseas Varietal Analysis program were presented at the National Association of Wheat Growers/U.S. Wheat Associates Fall Board Meeting October 29 to November 1, 2014.
Kansas hard red winter (HRW) wheat is not just a good choice for farmers. The medium protein content and good milling and baking characteristics make it great for a wide variety of products around the world including pan breads, hard rolls, Asian noodles, flat breads and all-purpose flour.
But each culture and country has their own baked good preferences. That is why Kansas Wheat's export market association partner U.S. Wheat Associates has international millers put newer wheat varieties to the test each year through the Overseas Varietal Analysis program. According to U.S. Wheat Associates, the goal of the program "is to gather and distribute information about the performance of U.S. wheat varieties in the international marketplace as they relate to the export market's needs for quality, functionality and end product performance."
"Every market is looking for something a little different," said Daryl Strouts, president of the Kansas Wheat Alliance. "The Overseas Varietal Analysis program is a good, middle-of-the road evaluation comparable to what private millers and bakers are doing."
For hard red winter varieties, the Kansas Grain Inspection Service gathers and grades wheat variety samples. The samples are milled domestically and evaluated for quality by the Kansas Wheat Quality Lab. The flour is then sent overseas for testing.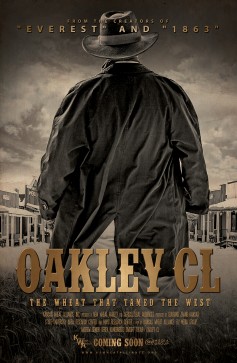 For the 2013 crop, new Kansas Wheat Alliance variety
Oakley CL
was included among six varieties tested by six international millers from five different countries that typically purchase hard red winter wheat out of the Gulf of Mexico. Those cooperators evaluated Oakley CL against the commercial flour they regularly use in their specific end products. Each flour was tested and ranked according to dough handling characteristics, end use quality and overall acceptability.
Oakley ranked second out of the six varieties tested. It was ranked highest by cooperators in Nigeria and the Dominican Republic, who also gave the variety high rankings for end product performance. Overall, the cooperators found Oakley to have acceptable milling and baking quality and average test weight and protein.
Those results match the broader analysis done by the Wheat Quality Council. Dr. Rebecca Miller, director of the Kansas Wheat Quality Lab, reported that testing results from the Wheat Quality Council, which evaluates a larger number of samples, found Oakley has good mixing and baking quality in addition to good resistance to wheat streak mosaic virus and stripe rust.
Why does that matter to Kansas wheat farmers? Hard red winter constitutes an average of 40 percent of wheat exported from the United States and international buyers are continuously looking for a high quality, reliable supply. Programs like the Overseas Varietal Analysis program help these millers use our best product to make their best products. 
by Julia Debes
---