Try, Try and Try Again: Seeking a source of resistance to TriMV
Posted

March 17, 2016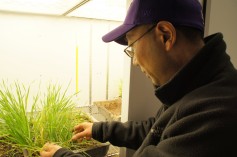 Sometimes the lack of an answer is an answer in and of itself. Take resistance to wheat Triticum mosaic virus (TriMV) for example. Researchers have not yet found a source of resistance to the virus in conventional wheat lines, thus identifying the need for an expanded search for key genetic protection.
Armed with funding from the Kansas Wheat Alliance, Dr. Guorong Zhang, Kansas State University wheat breeder, and his team at the K-State Agricultural Research Center at Hays are behind this search for resistance to TriMV, the second most common mosaic virus in western Kansas behind wheat streak mosaic virus.
"There are no effective chemicals for controlling TriMV," Zhang's research proposal stated. "Host resistance is a primary and effective way to control TriMV."
Why TriMV?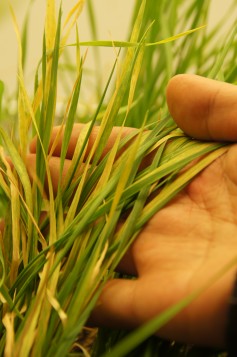 TriMV was first discovered in Kansas wheat fields in 2006. But, the virus is now widely distributed throughout the Central Plains, including Kansas, Colorado, Nebraska, Oklahoma, Texas, South Dakota and Wyoming. According to Zhang's research proposal, roughly 30 percent of wheat samples with virus-like symptoms tested positive for TriMV in 2008 and 2011.
TriMV currently occurs primarily as a double infection with wheat streak mosaic virus, primarily because both diseases are carried by the same vector - the wheat curl mite. Zhang said both viruses show similar symptoms, so a time-consuming ELIA (Enzyme Linked Immunoabsorbent Assay) test is needed to identify which virus, or both, has infected the plant. A 2011 study reported that the double infection of TriMV and wheat streak mosaic virus could cause up to 90 percent yield loss.
Finding the genetic guard against this virus is important because no chemical applications can control it. Furthermore, if wheat breeders like Zhang are successful in efforts to ward off wheat streak mosaic virus, TriMV may become an even bigger problem - like a secondary villain taking over for the Joker in a Batman movie.
"We are trying to prepare for the future," Zhang said. "We cannot tackle the problem only when it emerges."
Expanding the Search
Zhang and his team initially tested 3,559 accessions from wheat germplasm lines around the world for TriMV resistance. When none was found, the team upped the number to more than 6,700 germplasm lines. Each line tested, even those with early promise, eventually failed to resist TriMV.
"You cannot always succeed," Zhang said.
Now, Zhang and his team are now testing an additional 3,200 lines, primarily from Iran, to search for this virus resistance.
"All our breeding lines tested with TriMV showed susceptibility," Zhang's research proposal stated. "Therefore, it is imperative to discover resistant sources in conventional wheat."
Zhang and his team will continue testing for a source of TriMV resistance in existing wheat germplasm and is expanding the search into germplasm from wild wheat relatives. With research projects like this, the Kansas Wheat Alliance is helping develop protection for Kansas wheat fields, even if the answers are not easy to find. 
by Julia Debes
---