Thank A Farmer at the Kansas State Fair
Posted

September 8, 2016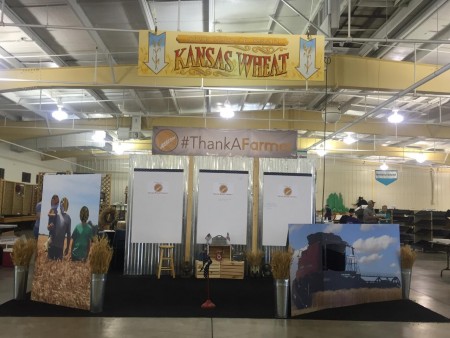 This year's Kansas Wheat state fair booth once again pays homage to Kansas wheat farmers. The theme of the booth is #ThankAFarmer.
Visitors to the Kansas Wheat booth in the Pride of Kansas building are encouraged to stop by and sign a thank you card for the wheat farmers of the state, who work long and hard to grow the healthy grains that feed a hungry world.
In years like this one, farmers may find it difficult to remain optimistic about the future of farming, with depressed prices and struggling markets. But there is a rose among the thorns in the form of improved productivity with record yields due to good management practices, good weather and improved varieties.
Farmer-leaders of the Kansas Wheat Commission and Kansas Association of Wheat Growers will be on hand to answer questions from their fellow farmers.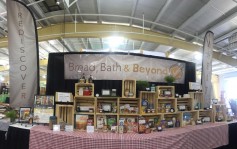 Fairgoers will also get a chance to learn about the many products that contain wheat. The "Bread, Bath & Beyond" display highlights the many products made from wheat, from foods to pet litter to bath products to industrial adhesives to many things in between.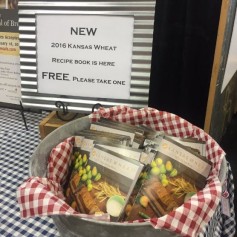 The 2016 Kansas Wheat Recipe Book is hot off the presses, making its debut at the Kansas State Fair booth. The annual recipe book, a staple in kitchens statewide, features recipes developed by Cindy Falk and Julene DeRouchey, nutrition educators at Kansas Wheat. The recipes have been thoroughly tested and perfected, as the staff members of Kansas Wheat can confirm. Recipes include
Speedy Pesto-Garlic Skillet Bread
,
Whole Wheat Peanut Butter Pretzel Balls
,
Blueberry-Lemon Wheat Rolls
,
Twisted Honey Nut Loaves
and many more! This year's recipe book, along with a limited quantity of the 2015 recipe book, will be available for free at the Kansas Wheat booth. These recipes are also available at
nationalfestivalofbreads.com
.
Young visitors to the booth will enjoy getting their photo taken in one of the new cutouts this year. Kids and other visitors can pose in a Kansas wheat field or inside a combine cab to have their photos taken.
Farmers are also encouraged to attend a forum  at the state fair on Saturday, September 10, with ag economist Dr. Allen Featherstone from Kansas State University, to detail the current problems with low commodity prices. Senator Pat Roberts, Chairman of the Senate Ag Committee, and Representative Mike Conaway, Chairman of the House Committee on Agriculture, will be there to hear this first-hand. This is one avenue to let people know of the difficulties Kansas growers are facing.
Other exhibits include the market wheat show, 4-H Wheat Variety Plot Display Awards, Kansas wheat photography contest and Kansas Wheat Breadbasket. On September 13 at 2:00 p.m., nutrition educators Falk and DeRouchey will be giving a presentation in the domestic arts building entitled, "National Festival of Breads tips and trends."
On Governor's Day, September 15, winners of the Kansas Wheat Yield Contest will receive their awards. The top record-breaking yield was 121.48 bushels per acre, achieved by Alec Horton of Horton Seed Services in Leoti, Kansas, on his plot of Joe, a new hard white wheat variety from the Kansas Wheat Alliance. The governor will also announce the winner of the quality initiative, which achieved the highest overall quality, mill and bake scores.
Kansas Wheat representatives will man the Agriland exhibit on Saturday, September 17. Fairgoers will have the chance to ride in a virtual combine, sift grain between their fingers, milk Blossom - the mechanical dairy cow, learn about livestock feed rations and walk through the soil tunnel trailer for an under-the-scenes look at Kansas soils.
The Kansas State Fair runs September 9-18, 2016. While visiting the State Fair, take the opportunity to stop by the Pride of Kansas building to visit the Kansas Wheat booth and learn more about our number one crop, from research to production to wheat foods, which provide about 20% of global calories for human consumption and ensure that the world has enough to eat.
By Marsha Boswell, Director of Communications
---