SY Monument Remains Top Wheat Variety
Posted

March 2, 2020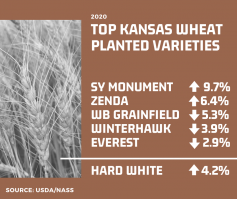 SY Monument
, the top planted variety, has seen a gradual increase in overall share of Kansas wheat since 2015 and accounted for 9.7 percent of the State's 2020 wheat planted acres.
Zenda, which was new to the top ten last year, was the second most popular variety at 6.4 percent.
WB Grainfield ranked third at 5.3 percent.
The fourth most popular variety was Winterhawk at 3.9 percent.
Acres planted to Everest continued to decline, but it remained in fifth place at 2.9 percent.
T158 remained in sixth place at 2.8 percent. LCS Mint maintained seventh place at 2.6 percent. TAM 114 and TAM 111 also represented 2.6 percent of planted acres. Doublestop CL Plus rounded out the top ten at 2.3 percent.  Area planted with blended varieties was not included in the rankings by variety. Blends accounted for 11.1 percent of the State's planted acreage, which is down from 13.6 percent last year.
Hard white varieties accounted for 4.2 percent of the State's acreage, up from 3.7 percent last year. Joe was the leading hard white variety at 2.3 percent.
There were 1,971 positive reports summarized for this year's Wheat Varieties survey.
This Wheat Variety project is funded by the Kansas Wheat Commission.
---