Record Yields Win 2016 Kansas Wheat Yield Contest
Posted

August 11, 2016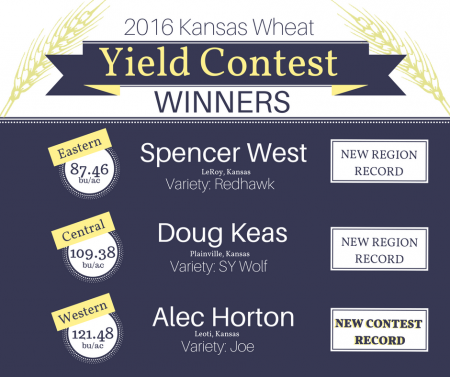 Wheat yields have been a heated topic of discussion at coffee shops across Kansas for years. But seven years ago, Kansas Wheat decided to up the ante and see who really had the best yields in the state. The 2016 contest was the most competitive in Kansas Wheat's history with a record number of entries, as well as 11 entries that broke the 100 bushels an acre ceiling.
Kansas Wheat is proud to announce the winners of the 7th Annual Wheat Yield Contest. This year's top wheat yields belong to Spencer West of LeRoy, Eastern Region winner; Doug Keas of Plainville, Central Region Winner and Alec Horton of Horton Seed Services in Leoti, Western Region Winner.
Spencer West is this year's Eastern Region winner. West's winning plot was 16.83 acres planted with WB- Redhawk (WestBred) and resulted in a yield of 87.46 bushels per acre. West is a newcomer to the yield contest, but made a splash with the highest eastern region yield for the Kansas Wheat Yield Contest.
Doug Keas is this year's Central Region winner. His plot was 8.25 acres planted with SY Wolf (Syngenta). Keas' prize-winning yield was 109.38 bushels an acre. Keas is no newcomer to the Kansas Wheat Yield Contest, as he was also the Central Region Winner and Quality Initiative Winner in 2014. His hefty 109.38 bushels an acre is now the highest Central Region yield in contest history.
Alec Horton is this year's Western Region winner. He planted his 7.82 acre plot with Joe, a white wheat variety from the Kansas Wheat Alliance. Horton is another newcomer to the Kansas Wheat Yield Contest, but his plot smashed the record books with a yield of 121.48 bushels an acre, a Kansas Wheat Yield Contest record. The previous yield record was achieved last year by Darren Nelson, Hutchinson, who recorded a 108.48 bushels per acre entry.
Best management practices are key for winners of the Kansas Wheat Yield Contest. Disease took its toll on the Kansas wheat crop in 2015, so applied fungicide was a recurring theme for the regional winners. West and Keas both used treated certified seed, while Horton used treated foundation seed. For more agronomic information on this year's winners see the bottom of this page.
Justin Gilpin, CEO of Kansas Wheat, said, "Hosting the Kansas Wheat Yield Contest is an exciting part of what we do here. We're proud to recognize farmers across the state for their dedication to good management practices and celebrate their successes."
The 2016 Kansas Wheat Yield Contest is sponsored by WestBred, Kansas Wheat Alliance, Limagrain, Plains Gold, AgriPro, ADM Milling and Kansas Wheat. Winners of the contest receive a $1,000 prize that will be awarded on September 15 by Governor Sam Brownback at the Kansas State Fair. Each winner will also receive a $500 prize, awarded by the company whose variety they planted.
In addition, the contest also has the optional Quality Initiative. Participants collect a sample of their wheat which will then be graded and analyzed for various quality components. The sample with the highest overall quality, mill and bake scores will receive $250. This winner will be announced by Governor Brownback at the State Fair. 
Agronomic Information
Eastern Region: Spencer West
Date Planted: 10/30/2015
Variety Planted: WB- Redhawk
Planting Rate: 180 pounds per acre
Seed Treatment: Warden Soil
Fertility Info: In furrow – 88 pounds per acre 11-52-0; dry
                         In furrow – 50 pounds per acre 0-0-60 potash; dry
                         In furrow – 10 pounds per acre zinc sulfate; dry
                         Topdress – 15 gallons 28% UAN; liquid
Herbicide Info: Topdress – .5 ounce per acre Finesse; pre-emerge
Fungicide Info: Feekes 3 – 6 ounces per acre Twinline
                             Feekes 10 – 6 ounces per acre Prosaro
Insecticide Info: Feekes 2 – 4 ounces per acre Ravage
                               Feekes 10.5 – 1.9 ounces acre Province II
Central Region: Doug Keas
Date Planted: 10/08/2015
Variety Planted: SY Wolf
Planting Rate: 75 pounds per acre
Seed Treatment: Warden
Soil Fertility Info: Topdress – 100 pounds per acre 46-0-0 with factor; dry
                                 Planting – 65 pounds per acre Micro Essentials SZ + P-Max; dry
                                 Feekes 10 – 1 quart per acre MAX-IN Copper; air
Fungicide Info: Feekes 10 – 6 ounces per acre Twinline
Western Region: Alec Horton
Date Planted: 9/25/2015
Variety Planted: Joe
Planting Rate: 375,000 seeds per acre (28 pounds per acre)
Seed Treatment: Vibrance Extreme, SB4400
Soil Fertility Info: Topdress - 90 pounds per acre; liquid
Herbicide Info: Feekes 3 – 3.5 ounces per acre Rave
Fungicide Info: Feekes 5 – 2 ounces per acre Pridxor
                            Feekes 10 – 4 ounces per acre Monsoon
                            Feekes 10 – 6 ounces per acre Azoxy Star
Insecticide Info: Feekes 10 – 3.84 ounces per acre Ravage
---