Plan to Attend Family Bread Festival on June 8
Posted

May 30, 2019

Join bakers from all over the United States on Saturday, June 8, for a fun Festival for the entire family.

The National Festival of Breads has activities for all ages, including face painting, temporary tattoos, a balloon artist, bread samples, pizza in a bag, bread shaping demonstrations and "Ask the Baker" sessions, as well as notable featured speakers on the main stage.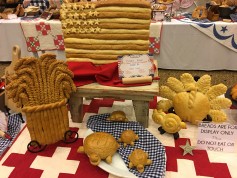 The Festival will be held at the Manhattan Conference Center and Blue Earth Plaza in downtown Manhattan, Kansas, from 8:30 a.m. to 4:00 p.m. Admission to the Festival is free with the donation of a non-perishable food item to support the local food pantry. Military appreciation gifts will be provided to the first 200 active or retired military families (with Military ID).
Eight bakers from across the nation will be baking their winning recipes in a Food Network-style baking contest throughout the day. There will be eight kitchens, one for each of the finalist. At 3:00 p.m., they will present their breads to the judges on the main stage in the ballroom. Attendees will have the opportunity to watch the live judging and hear the announcement of the National Festival of Breads Champions in two divisions – home bakers and food bloggers – at 4:00 p.m.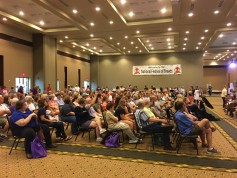 There will be baking demonstrations on the main stage from 9:00 a.m. to 3:00 p.m. Main stage speakers include "Chef Tess" Stephanie Peterson; Brian Hart Hoffman of Hoffman Media, who is representing Red Star Yeast; Libby Treadway of King Arthur Flour; and Charlene Patton of the Kansas Soybean Commission.
Visitors can sign up to win a Kitchen Aid mixer. This door prize will be drawn at 4:00 p.m. sharp. You must be present to win.
In the hallway, attendees will find exhibitors representing food companies and the agriculture industry. Samples and items for sale will be available.
Presenters will be giving bread shaping demonstrations in the vendor area from 9:00 a.m. to 2:45 p.m. Learn how to shape bread dough into fun artistic shapes, such as teddy bears, pigs, lambs, spiders, fish and bunnies.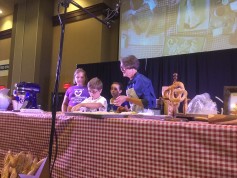 In the "Ask the Bakers" room, demonstrators will be assisting home bakers and baking educators with ingredients, methods and equipment question s to build your home baking success and will provide teaching resources and knowledge. Together they bring 100+ years of test kitchen, classroom, extension, community, home and culinary baking expertise. They'd love to hear your baking challenges and share tried and true baking practices! These sessions run from 8:45 a.m. to 2:15 p.m.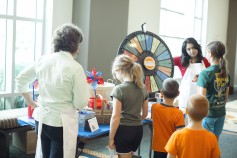 Families will have the chance to take home Pizza in a Bag ingredients and enjoy learning about wheat in the tent in Blue Earth Plaza. There will be games and activities, and kids 12 and under have a chance to win a John Deer Toy Combine.
In addition to bread samples, there will be four food trucks outside the hotel to provide lunch options and some breakfast items for all the hungry visitors.
The "Taste, Vote & Bid" Popular Choice Award allows attendees to sample the finalists' breads and cast their vote for their favorite bread.
The National Festival of Breads will be held on Saturday, June 8, 2019, at the Manhattan Conference Center, 410 South 3rd Street, Manhattan, Kansas. Doors open at 8:30 a.m. Live judging begins at 3:00 p.m. Award presentations begin at 4:00 p.m.
The National Festival of Breads is a signature event for Manhattan. It is sponsored by Red Star Yeast, King Arthur Flour, Kansas Wheat and Visit Manhattan. The Festival builds upon a rich tradition of grassroots support and is the only baking competition of its kind in the country. This contest is a way for bakers to be recognized for their baking skills and creativity. It also recognizes the U.S. wheat and milling industries. This event is a highlight of how the full circle of agriculture truly goes from "farm to table" in a very public way. This is a great event for all ages with activities taking place in the Blue Earth Plaza and the Manhattan Conference Center. Bring the whole family and experience a full day of the National Festival of Breads.
More information, including the full schedule, is available at http://nationalfestivalofbreads.com.
---