Nigerian millers visit Kansas wheat harvest
Posted

June 25, 2015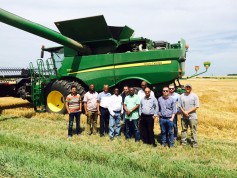 Twenty members of the Nigerian flour milling and noodle/pasta manufacturing industries traveled to Kansas during wheat harvest to learn more about the Kansas wheat industry and use their newfound knowledge to make purchasing decisions for their company.
The eight senior managers from Nigeria visited Kansas on June 25-26 to examine the current hard red winter (HRW) crop as part of a U.S. Wheat Associates (USW) trade team. USW believes this annual event helps maintain a loyal customer base in a traditionally large market.
In addition on June 18-26, 13 Nigerian flour millers were attending the two-week U.S. Wheat Associates Nigerian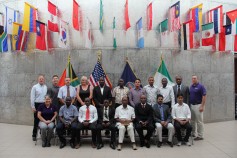 Flour Milling course at the IGP Institute in Manhattan, Kan. As a major U.S. partner with the Nigerian milling industry, Kansas State University's IGP Institute annually hosts the Nigerian Flour Milling course in conjunction with U.S. Wheat Associates.
Year-to-year, Nigeria buys more U.S. HRW than any other country. Nigerian millers imported 58.4 million bushels of hard red winter wheat last marketing year.
The United Nations predicts that Africa — and Nigeria in particular — will have a larger population than the United States by 2050. Emannuel Mshelia, of Royal Mills & Foods Ltd., said, "With population growth, there is more eating. With more eating, there is much buying of U.S. wheat." Mshelia was on his third trip to the United States and attended the IGP Institute course.
The trade team's Kansas visit included stops at the Kansas Wheat Innovation Center, USDA's Center for Grain and Animal Health Research, IGP Institute and a Kansas wheat farm near Wilsey, as well as time with grain merchandisers.
"U.S. Wheat Associates and our state wheat commission member organizations built long-term demand for U.S. wheat in Nigeria by providing information and technical support," said Muyiwa Talabi, marketing consultant with USW based in Lagos, Nigeria. "This is our fifteenth annual trade team from Nigeria since 2001 and it is still a key part of our work in an important market where we face new challenges."
In Nigeria, instant noodles are an increasingly popular source of nutrition for more than 170 million people. Combined with bread, cookies and crackers and pasta, per capita consumption of wheat foods in Nigeria has more than tripled since 1995.
Nigerian flour is used predominately to make a dense, high volume loaf of bread. Nigerian flour millers are looking for wheat able to withstand variable conditions and produce the same high quality loaf of bread time and again.
Kansas hard red winter wheat is a great match.
In addition to bread, Nigerians eat more instant noodles than anyone else outside of Southeast Asia. Why? Because as more Nigerians move from rural areas to urban ones, they are looking for a more convenient, nutritious food source. U.S. Wheat Associates, with assistance from Kansas Wheat, helped introduce this product in the market.
Today, instant noodles made with HRW wheat are so popular that every milling company produces them, even though the product was a foreign concept just a decade ago. Indomie, the largest producer of instant noodles in Nigeria, can make up to two million boxes of instant noodles every month.
"In an increasingly competitive market, those customers still benefit from, and appreciate, the support USW provides including the chance to see the new U.S. wheat crop and learn about its supply chain from the people who manage it," said Gerald Theus, assistant regional manager for Sub-Saharan Africa with USW who is based in Cape Town, South Africa.
Theus and Talabi led this trade team visit. Accompanying the IGP Institute group on the trip was Cathy Marais, an accountant for U.S. Wheat in Nigeria. 
Kansas Wheat, together with U.S. Wheat Associates, continually works to strengthen the relationship between Kansas wheat farmers and Nigerian flour millers through annual trade team visits and specialized courses at the IGP Institute. Through these activities, Nigerian millers know Kansas farmers will have the wheat they want, year after year.
---