National Wheat Yield Contest deadline is May 15
Posted

March 16, 2017

The National Wheat Foundation is proud to once again host the National Wheat Yield Contest. This yield contest was held for the first time in 2016 and was well-received by wheat growers across the United States. The contest offers growers the opportunity to compete with their peers across the United States and learn from each other innovative techniques to improve wheat productivity on their farms.

The early deadline for the contest is April 1 for winter wheat. An entry fee of $100 per variety entered if registered online by April 1 for winter wheat or June 15 spring wheat is due upon submission. After these early entry dates of April 1 for winter wheat and June 15 for spring wheat, $125 per variety entry when entered online by May 15 for winter wheat or August 1 for spring wheat.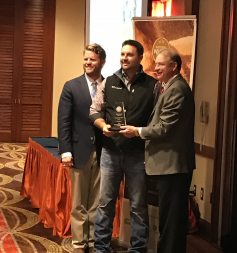 Winners in the 2016 contest were recognized at a reception in conjunction with the 2017 Commodity Classic earlier this month. Two Kansas farmers received top yields in the 2016 contest. Rick Horton, of Horton Seed Services in Leoti, Kansas, won the winter wheat – dryland division with his hard white wheat variety Joe, from the Kansas Wheat Alliance. His final yield was 127.94 bushels per acre, which was 374% above the county average of 27 bushels per acre.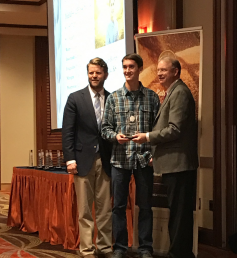 Jagger Borth, a high-schooler from Meade, Kansas, won the winter wheat – irrigated division with WestBred's WB-Grainfield variety. His final yield was 133.64 bushels per acre, a 377% increase over the county average of 28 bushels per acre.
The contest's objectives are to drive innovation in the industry, enable knowledge transfer between growers, encourage the use of available technology and identify top wheat growers across the United States. The contest features two primary competition sectors, winter wheat and spring wheat, and two sub-sectors, dryland and irrigated. The top five winners from each sector/subsector will be recognized nationally, including at the 2018 Commodity Classic to be held February 27 - March 1, 2018, in Anaheim, California.
Kansas farmers must be a member of the Kansas Association of Wheat Growers to compete. Please make sure you are a member in good standing before completing and submitting the NWYC Entry Form.
Find out more at https://yieldcontest.wheatfoundation.org/.
In addition, Kansas Wheat will once again host the Kansas Wheat Yield Contest. Entries for the state contest are due June 1, 2017. Winners in the state contest last year included Spencer West of LeRoy, Eastern Region winner; Doug Keas of Plainville, Central Region Winner and Alec Horton of Horton Seed Services in Leoti, Western Region Winner. West's winning variety WB-Redhawk (Westbred) yielded 87.46 bushels per acre. Keas, a repeat winner in the contest, raised 109.38 bushel per acre SY Wolf, a Syngenta/Agripro variety. Alec Horton, brother of national winner Rick Horton, raised Kansas Wheat Alliance's hard white wheat Joe to a record yield of 121.48 bushels per acre.
 More information about the Kansas contest is available at kswheat.com/yieldcontest.
---