Kansas Wheat Farmers Support 2018 Farm Bill, Urge President to Sign into Law
Posted

December 12, 2018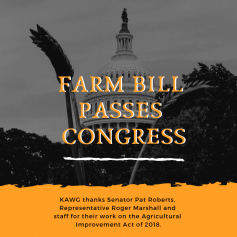 Following several years of low farm prices, trade disruptions and increasing international competition, passage of the 2018 Farm Bill comes at a crucial time for our farmers and ranchers. Kansas wheat farmers thank Congress for passing the 2018 Farm Bill and urge President Trump to sign the Farm Bill into law as soon as possible.
"Kansas wheat farmers are thankful to have a Farm Bill in place. It's vital to have a strong safety net, both for our farming operations and for the consumer who wants plentiful access to safe, affordable food," said Kansas Association of Wheat Growers (KAWG) President Ken Wood. "We are grateful for the leadership and hard work of Senator Pat Roberts, Chairman of the U.S. Senate Committee on Agriculture, Nutrition and Forestry; Dr. Roger Marshall, Kansas Representative on the House Committee on Agriculture; and the countless man-hours that legislative staff have put into the creation and passage of the bill."
KAWG Vice President Justin Knopf agrees that the passage of the Farm Bill comes at an especially critical time for farmers.
"I'm used to dealing with a fair amount of uncertainty as a farmer, but this year has been more extreme than most with trade issues, ongoing low commodity prices, and weather this fall that made completing harvest and wheat seeding terribly difficult," said Knopf. "So, I greatly appreciate Chairman Roberts and Congressman Marshall's diligence in getting the Farm Bill to the finish line. By doing so, we at least have some certainty around farm policy for the next several years.
Knopf added, "Plus, I'm hearing improvements that will bring some helpful flexibility within the programs, and the bill also maintains conservation funding, which has been an effective tool in implementing meaningful improvement on our farm."
The National Association of Wheat Growers (NAWG), which represents wheat farmer organizations throughout the United States including KAWG, applauds the committee for maintaining a strong crop insurance title and supports the language allowing for producer choice between Agriculture Risk Coverage (ARC) and Price Loss Coverage (PLC). NAWG appreciates the Committee recognizing the importance of using consistent data in determining farm program payments, while making RMA data its primary source, and for making improvements to both ARC and PLC.
"We're pleased that the bill helps to update and improve Price Loss Coverage and Agriculture Risk Coverage programs," said Wood. "These changes enable farmers to better respond to market and production conditions by selecting the program that works best for their operation on an annual basis. These programs, and many others enacted by the Farm Bill, help producers find some stability in the rocky agricultural economy, an important win-win for the farmers and the American people they work to feed, clothe and fuel."
Another important portion of the Agricultural Improvement Act of 2018 establishes the Agricultural Trade and Facilitation Program that funds the Market Access Program (MAP), the Foreign Market Development (FMD) program, the Emerging Markets Program (EMP) and the Trade Assistance for Specialty Crops (TASC). That is a very important amendment for wheat farmers because FMD funds directly support the ability of U.S. Wheat Associates (USW) to maintain bases of operation and local representatives to conduct trade service and technical support activities with buyers, flour millers and wheat food processors.
The legislation now allows Congress to appropriate discretionary funds to cover the cost of administering the export market development programs, rather than covering costs from the appropriated program budgets. The law also establishes a Priority Trust Fund to be used at USDA's discretion to help meet requests that exceed the appropriated program funds. Another important change now allows qualified organizations like USW to use program funds to conduct market development activities in Cuba, a potential new market that has been a focus of Kansas wheat farmers for years.
"As a Kansas farmer, I know the importance of opening up new markets and how that impacts the lives of farmers. We need a new approach with Cuba that is dynamic and thoughtful," said Kansas Wheat Commissioner Doug Keesling. "The language in this Farm Bill is a step in the right direction in advancing relationships between Kansas wheat farmers and the Cuban people."
"Kansas wheat farmers commend the House and Senate for quickly voting on the bill and passing it out of their respective Chambers with strong bipartisan support," concluded Wood. "We urge President Trump to support this bill and sign it into law."
---