Kansas farmer hones leadership skills at national training
Posted

December 11, 2014
Ken Wood attends Wheat Industry Leaders of Tomorrow program
What better place to discuss how farmers should respond to the attack from the Healthy Home Economist than at a wheat specific leadership program? Chapman farmer Ken Wood and 10 other U.S. wheat farmers had the chance to do just that, plus develop additional leadership and communication skills as part of the 2014 Wheat Industry Leaders of Tomorrow (WILOT) program.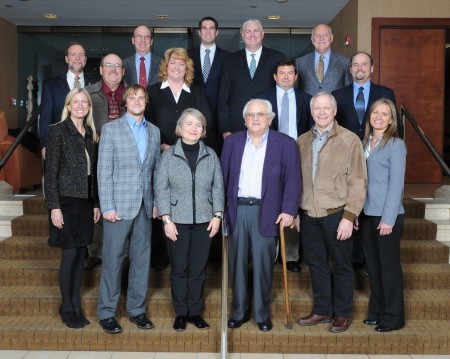 The National Wheat Foundation conducted this year's WILOT training from Nov. 15 to 20, 2014, in St. Louis, Missouri. Wood said the program "surpassed my expectations" and included sessions on Myer Briggs assessment as well as training from the Center for Food Integrity on what messages farmers can use to resonate with consumers and other non-ag audiences. 
Wood learned that farmers may have a tendency to go on the defensive "quicker than we need to." He said his takeaway was to be more sympathetic with non-ag folks and try to educate them along with answering their questions. 
Wood previously participated in the Wheat Organization Leaders of the Future (WOLF) program and the Kansas Agricultural and Rural Leadership Class (KARL). He has also served on the Kansas Association of Wheat Growers Board of Directors since February 2012. But, he encouraged "anyone who has interest in the industry" to apply for future WILOT programs.
Researching the Research
As the program was based at Monsanto's headquarters, the group also had the chance to tour Monsanto's research facility. The machine shop stood out in Wood's mind. 
"It is mind blowing how many of their own machines they make," he said. 
He noted that while the machines themselves do not look all that incredible – he noted the DNA sequencing machine looked like an "overgrown copy machine" – the technology inside is very advanced.
"I like the results, but it blows my mind how they figured out how to insert a gene," Wood said. "Who even thought that might work? They are a pretty impressive bunch."
Wood also remarked on the pride and comradery exhibited by Monsanto employees, contrary to the negative attitude many consumers have about the company. He left St. Louis encouraged by the future of the wheat industry, thanks to research efforts by both private companies like Monsanto and public universities like Kansas State University. 
Wood said, "Wheat has been a slow adapter to advanced technologies, but it is hard not to be optimistic when you see what companies and universities are working on now."  
By Julia Debes
---