K-State wheat breeder discusses varieties
Posted

September 13, 2018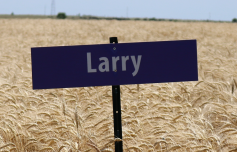 As wheat farmers look toward planting, there is a plethora of variety options to choose from.
K-State wheat breeder Allan Fritz says, "There are a number of varieties that come to the top in each area of the state."
He says, "For instance, in south central Kansas, I think both Larry and Zenda fit really well. WB4269, WB4458 are strong varieties, Monument is a good performer in that area and Chrome has had some success there as well. And Gallagher is a good variety out of Oklahoma for south central Kansas."
He says these same varieties, with the exception of Gallagher, should also perform well in areas further to the north in central Kansas.
Zenda and Larry are two varieties that were developed in Fritz's breeding program at K-State.
He says Zenda, which has been called the Everest replacement, is recommended for all of central and eastern Kansas, and is generally significantly better than Everest for a number of characteristics.
"When I look at the data, Zenda has done really well in our ambient growing conditions where we haven't applied fungicide, so the disease package is very strong. It has very good stripe rust resistance, it has good leaf rust resistance, has pretty good tan spot resistance, and has fusarium resistance very similar to Everest."
Not only that, but the quality of Zenda is an improvement over its predecessor.
Fritz says, "The quality is better than Everest, so it moves our quality bar up a little bit over Everest, so that's better for our end users."
Larry has also performed well.
Fritz says, "Larry has just been a good, consistent performer for us. During development and as we start to look at some of the data from the variety tests over a three or four year time span, Larry has just been a very strong performer. In south central Kansas if you average that data, Larry is at the very top."
In western Kansas, a different set of varieties take over the top of Fritz's recommendations.
He says, "As you go into western Kansas, then you start to worry about other things — drought tolerance, wheat streak mosaic virus. There's just a different set of varieties that are a good fit out there. "
Another relatively-new release from K-State is Tatanka, a hard red winter wheat that was released out of the Hays program.
Fritz says, "Yield potential on Tatanka has been really good. It's been toward the top of the trials. It is very well adapted to western Kansas. It has pretty good protection against leaf rust and stripe rust, so you have a pretty good disease package there. However, it doesn't really have the wheat streak component that we would like for it to have."
Wheat streak mosaic virus has been an issue in western Kansas over the past few years, causing a conservative 76.8 million dollars in direct losses to wheat farmers in 2017.
While there are a few varieties with some resistance to wheat streak mosaic virus or the wheat curl mite, Fritz says the best way to mitigate the virus is to control volunteer wheat.
"If you can encourage your neighbor to control their volunteer, that's great. Obviously you can't force people to do things. Somewhat delaying planting a little bit can help, but really then you're looking at, what are your options in terms of varieties that stand up to wheat streak a little bit better. There's some things with tolerance. There's some things with resistance to curl mite."
K-State has two varieties with resistance to wheat streak mosaic virus, including the hard white wheat Joe and the hard red winter wheat Oakley CL. While these have resistance to wheat streak, farmers may still see some symptoms of triticum mosaic or high plains virus on those varieties.
Joe has a well-stocked disease package, indicating resistance to stripe rust, leaf rust and wheat streak mosaic virus. It also shows good milling and baking qualities. Joe is a strong variety and high yielder for western Kansas.
The Hays breeding program, led by Dr. Guorong Zhang, is working on combining the WSM2 gene with curl mite resistance. Since the wheat curl mite carries all three viruses, this combined resistance can give some protection against the spread of all three.
In addition, Colorado State University has been working on wheat streak resistance and has released some varieties with curl mite resistance. The new hard red winter releases Canvas and Whistler have good wheat streak mosaic virus tolerance through a gene for resistance to the wheat curl mite. Monarch is a new hard white wheat from Colorado State that also has good wheat streak mosaic tolerances.
Avery and Byrd resist the wheat curl mite which gives good resistance to Wheat Streak Mosaic Virus. Langin also has resistance to wheat curl mite, which is carried from the Byrd parent.
However, Fritz says, "A bunch of those things with curl mite resistance are susceptible to stem rust. I know producers haven't seen stem rust in a long time, but it's my recommendation that if they're growing those varieties with stem rust susceptibility to look at a fungicide application late in the window because stem rust is a warm weather disease."
Wheat streak mosaic virus resistance is driving many acres to Joe, but Fritz warns that with any hard white wheat, farmers should plan where they're going to deliver it before they plant it.
KS Venada is another new release from the Hays breeding program. It is a hard white wheat that's adapted for central Kansas and brings with it excellent milling and baking quality. It is available to certified seed producers this fall and will be available to farmers in 2019.
Another strong option for farmers is Bob Dole, a variety that was developed by K-State, and marketed by Syngenta through the AgriPro Associates.
Fritz says, "It's a variety with really good quality characteristics. It's done really well in the central part of the state and well down into Oklahoma. It tolerated the drought quite well in 2018, has a good overall disease package and pretty good fusarium resistance. We think it's a very strong option for producers."
"We are in an environment where there are a lot of variety choices. Our release philosophy at K-State has always been relatively conservative in the sense that we really want to make sure that we are putting something that is really better out there rather than just another choice that the producers have to sort through. In general, we've really tried to make sure that when we bring something forward through Kansas Wheat Alliance is really what we think is a really good fit for production and has real value on acres."
By Marsha Boswell
---