Join Kansas Association of Wheat Growers to get your Wheat Varieties Book
Posted

August 12, 2021

Wheat planting is right around the corner. Joining or renewing your membership to the Kansas Association of Wheat Growers (KAWG) should be on the checklist so you do not miss out on important resources on available wheat varieties, the chance to win a GrainSense Analyzer protein tester and other members-only benefits. 

"KAWG puts wheat producers front-and-center, whether we are planning legislation, advising government and international agencies on matters affecting wheat or providing grassroots leadership to the entire U.S. wheat industry," said Taylor Williamson, Kansas Wheat director of government affairs. "In turn, KAWG's go-to resources keep Kansas producers connected with the issues and news that help inform their cropping and marketing decisions throughout the year."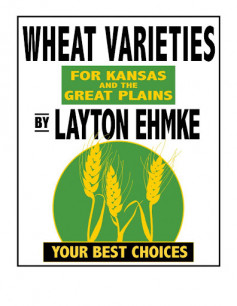 The 
Wheat Varieties for Kansas and the Great Plains — Your Best Choices
 book is a comprehensive source of information on wheat varieties and their characteristics. Included as a KAWG membership benefit, the book provides detailed rankings of varieties by traits of interest, making it easy to use. The book also includes summaries of variety performance tests in the Great Plains. Overall, the resource is the ultimate guide to wheat varieties for producers making variety selections for planting this fall. 
Another exciting benefit of KAWG membership this year is the chance to win a GrainSense Analyzer protein tester valued at $4,300, donated by Elevate Ag. Using advanced NIR (near-infrared) technology, the handheld device can deliver a quick measurement of protein content, moisture, oil content and carbohydrates, allowing the user to sort wheat into storage by quality and adjust in real-time to the most profitable opportunities.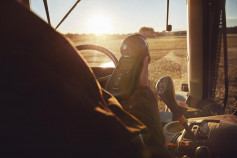 KAWG teamed up with Elevate Ag to give away one GrainSense Analyzer in August. If producers sign up or renew their KAWG membership this month, they will be entered into the drawing for this valuable device. A five-year membership holds ten entries into the drawing plus a $350 discount on additional devices or services; a three-year membership includes five entries plus a $250 discount on additional devices or services. A one-year membership will only receive a $100 discount on devices or services. 
In addition to the wheat varieties guide and the protein analyzer giveaway, KAWG members also receive the following benefits:
Wheat Farmer/Row Crop Farmer monthly newsletter from 34 Star Publishing
Weekly Market Analysis by Dan Maltby (via email)
Weekly member e-newsletter with state and national news
To learn more about these benefits or join or renew KAWG membership, visit the website at kswheat.com/join. 
Alternatively, complete membership paperwork in person at Farmer U on August 18 and 19 in Mulvane, Kansas. The new, in-person event — organized by the High Plains Journal — includes speakers, educational breakout sessions, panel discussions and a trade show. 
Michelle Miller — also known as the Farm Babe on social media — will open the event by discussing how farmers and ranchers can counter the misinformation spread about agriculture and work to educate consumers. Rob Sharkey — also known as the Shark Farmer — will close the event, focusing on how his media ventures center around providing a platform for stories about people in agriculture.
The event will also include two panel discussions — a farmer panel and a women's panel — while educational breakout sessions will cover soil health, irrigation, soybeans, corn, wheat, sorghum, alfalfa and corn. 
To learn more about the speakers and trade show or to register, visit www.farmeru.net. Join Kansas Wheat at booth #164 to learn more about the Kansas Association of Wheat Growers' August membership promotion and discount, as well as Wheat Rx, a partnership between Kansas Wheat and K-State Research and Extension to disseminate the latest research recommendations for high-yielding and high-quality wheat to Kansas wheat farmers.
###
Written by Julia Debes for Kansas Wheat
---