Grace Young Awarded 2022 Herb Clutter Memorial Scholarship
Posted

April 14, 2022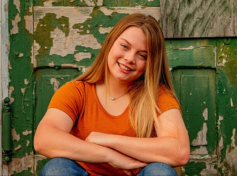 From recreating a mini-Agriland for kids who might not make it to the State Fair to organizing her own weed and seed identification contest, Grace Young is a young woman on a mission to simultaneously learn all she can about agronomy and milling science and share that knowledge with others. Her commitment to her community, coupled with her enthusiasm for the future of agriculture, made her the ideal recipient of the 2022 Herb Clutter Memorial Scholarship.
"My decision to choose an agricultural career was easy," she wrote in her essay applying for the scholarship. "I have never considered another industry I want to be involved in. Who wouldn't want to be part of an industry that affects everyone in the world each day?"
"I want a career that is rewarding, essential and engaging. I believe a career in milling science will fulfill these wants and give me a sense of contributing to society."
The Herb Clutter Memorial Scholarship was established in 2009 to honor Herb Clutter's influential role in organizing leadership groups on behalf of Kansas wheat producers. The scholarship is administered by the Kansas Association of Wheat Growers (KAWG) and awards one $1,000 scholarship per year to a college or university-bound incoming freshman from Kansas pursuing a career in agriculture. Students applying for this scholarship must complete a 400-500 word essay discussing why they chose a career path in agriculture.
Herbert W. Clutter was a farmer from Holcomb and the first president of the National Association of Wheat Growers, which was established in 1948. Clutter encouraged Kansas wheat farmers to organize as a strong, unified voice, which led to the formation of the Kansas Association of Wheat Growers in 1952. He encouraged research in education and industrial uses of wheat, improved variety development and methods to produce the best product at the lowest cost. Clutter's efforts led to the formation of the Kansas Wheat Commission by the Kansas legislature in 1957.
Like Clutter, Young also grew up on a small farm — albeit on the other side of the state in Osawatomie. A self-proclaimed "plant nerd," she is a dedicated 4-H and FFA member, developing a passion for plant and seed identification, grain grading and seed analysis. In addition to competing herself, she helps coach the freshman agronomy team at her school and organizes a weed and seed identification contest at the local county fair each summer. She plans to continue honing her skills as part of the K-State crops judging team and as an agronomy minor.
"I discovered that I not only love learning about agronomy, I also love teaching it," she wrote. "Going over the results with the contestants and sharing my knowledge with them are my favorite parts of the contest." 
To Young, the connection between the wheat in the field and the flour in a baked good is fascinating. Before selecting her primary major of milling science, she job-shadowed at a Grain Craft flour mill and was amazed at the timeless process of milling and its machinery.
"My love of agronomy and science opened the door to milling science," she wrote in her essay. "I loved every minute I was in the mill. I loved the hands-on part of the work, the transformation of wheat into flour, and the science behind the technology."
And to continue her passion for sharing agricultural know-how with others, Young plans to pursue a secondary major in global food systems leadership.
"When I think of agriculture, I have images of Kansas wheat fields, combines and tractors," she wrote. "But the bigger picture includes global agriculture and the problems the world is facing. How can we meet the rising demand for more food of higher quality? What can we do to make agriculture more sustainable and protect the environment? Where does the Kansas farmer fit into this global picture? I feel that a secondary major in global food systems leadership will help me explore answers to these questions."
Learn more about the Herb Clutter Memorial Scholarship at kswheat.com/clutter.
###
Written by Julia Debes for Kansas Wheat
---