Faces of Harvest: Kyle Kaiser
Posted

June 24, 2015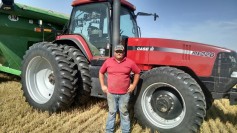 Farmers like to say Mother Nature has to kill a wheat crop a few times before harvest. And Bushton farmer Kyle Kaiser would agree. At the beginning of April, Kyle was ready to call his crop insurance agent to evaluate his short, dry wheat with some visible winterkill. But, after receiving nine to ten inches of rain in May, the wheat was waist high by mid-June.
"The wheat has grown a whole bunch since April/May," he said. "It is amazing what a little bit of rain will do."
With combines ready to roll in mid-June, Kyle reported rust-infected fields, lodging due to heavy rains and a little barley yellow dwarf.
Luckily, Kyle said his wheat fields have not suffered the extreme drought conditions plaguing western Kansas the past few years.
"We have not had a terrible year," Kyle said. "But, we have had some bad fields."
With the rain this year came disease. Even though they sprayed fungicide on most of their fields, Kyle reported seeing a lot of rust and some barley yellow dwarf.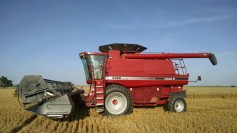 Kyle reported that they started cutting on Friday evening, June 19, and have just a few acres left. Yields are ranging from the high 40s to pushing 70 bushels per acre in a field or two, the average being 47 to 52 bushels per acre.
Test weights are averaging 61 to 63.5 and he said, "I do not think I have seen under 60." Only one field had more than 13.5 percent moisture; most are averaging 10-11 percent.
"Once it came, it dried out quickly," Kyle said.
He reported that neighbors are also seeing 60 bushels per acre.
"The wheat is turning out a lot better than we thought in April, when we were not sure if we needed to take the combine out of the shed or not."
Football to Farming
Kyle attributed part of their farm's consistency in making a crop with improved farming practices. He and his father have been transitioning the farm to no-till since Kyle returned home in 2007 as the third generation on the farm after playing football at Garden City Community College. Now, most of their acres are no-till and the crop rotation now includes cover crops like radishes, winter peas or sudan grass. The cover crops help to fix the nitrogen back into the soil and provide forage for cattle.
"As far as I am concerned, the tillage equipment will stay in the shed," Kyle explained.
Off the farm, Kyle serves as volunteer firefighter and EMS as well as on the Bushton City Council. A month after he was elected to the City Council, the local City Office burned down and only recently re-opened after two years of reconstruction. Kyle said he spends the remainder of his free time playing with his niece.
Ultimately, Kyle said farmers in Kansas never really know the weather they will get – from monsoons to desert conditions. As a result, they can only do what they do best – farm the land responsibly and keep a positive outlook.
As Kyle said, "Not a whole lot we can do besides hope that Mother Nature takes care of us."
By Julia Debes
---