Faces of Harvest: John Fellers
Posted

June 29, 2016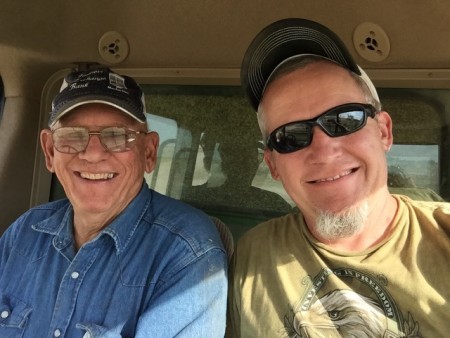 Many years ago, just like Tom Cruise in the film Far and Away, a Fellers family ancestor left his tobacco farm in Ohio, saddled up his horse and boarded a train west to claim land offered in the land run of 1893. And the rest is history. Over one hundred years later, a wheat farm located just south of Kiowa, Kansas in Burlington, Oklahoma, is still owned and managed by the Fellers'. As a fifth generation wheat farmer and a wheat scientist, John Fellers, of Manhattan, KS has a unique perspective of the wheat industry.
For the past 17 years, Fellers has worked for the USDA ARS as a research molecular biologist in the plant pathology department at Kansas State University. He works with in the Hard Winter Wheat Genetics Research Unit that focuses on understanding wheat diseases and leaf rust. Even though he enjoys sequencing genomes and making discoveries, Fellers likes getting back to his roots during wheat harvest every year when he goes back to help his family bring in the grain.
"I was active in FFA, just a farm kid. We were wheat and cattle farmers and now even though I work here, I still have an active part of the home farm. My father manages the farm, but I still help make decisions," said Fellers.
Being a scientist and a farmer also helps Fellers connect to producers. He can promote his research but he's also been around the equipment and knows the complications that sometimes arise.
"I can really have a connection with the wheat commissioners because I can talk combine parts and I know what they go through.  I know what a combine costs and I know what it takes to fix it. I know what it's like to run a skunk through it and have to dig it out," said Fellers.
Fellers notes that, as a scientist in the lab, it can be hard to see the fruits of his labor. Being a part of wheat harvest has given him a way to see how the wheat he helped create is thriving in the industry. This year, in particular, was exciting for Fellers because the work he did as an undergrad at Oklahoma State University to develop herbicide resistance in wheat tissue culture is now coming to fruition. The project, funded by American Cyanamid, entailed regenerating plants and then spraying them with an herbicide called imidazolinone to find resistance. It worked so well that American Cyanamid took the project back.
"Years later we have the Clearfield trait in wheat like Oklahoma's Doublestop CL. That research got started in my lab," said Fellers. "This year my dad planted Doublestop CL so it was the first year that I got to actually harvest a wheat with a trait from research that I started. It was really exciting."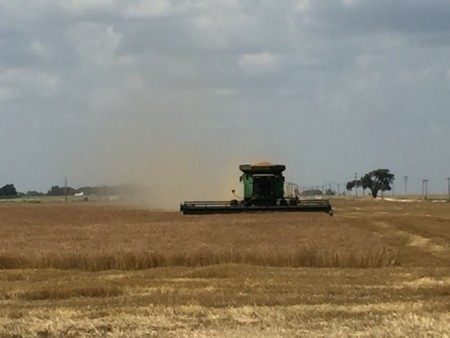 This year, the Fellers also planted Endurance along with the Doublestop CL and saw yields around 56 bushels per acre. This was a nice change from the 20 bushel per acre average during the last three years. Fellers reported test weights around 60 pounds per bushel for the Endurance and up to 64 pounds per bushel for the Doublestop CL.
"This was a year that was nice cutting and it was nice to see it roll in the bin," said Fellers. "The grain was a really healthy, brown golden color. It was just a beautiful harvest."
Harvest started Friday, June 3 and lasted a little over a week. Although harvest is over and he's back in the lab, Fellers will always have a passion working the land just as his family has for so many years. 
"You know, any farmer will tell you it's a lifestyle that you just love and you can't get it out of your blood. It's a chance for me to really get my wits back with me. Sitting on a combine or tractor with nothing else going on, it kind of gets your mind reset. It's a nice break. Even though it's hard physical labor for two weeks and I'm shot at the end, it's a nice mental vacation," said Fellers. "To know that I've got direct implications on what I do research wise, it also gets me back to really bring home what I do in the lab."
---