Expect Buyers' Market for Kansas Commodities to Continue
Posted

August 27, 2015

Export demand likely will not drive farmgate wheat prices higher in the next year, according to K-State agricultural economist Dan O'Brien at the 2015 Risk & Profit Conference on August 20.

"Since January 2015, the prevailing consensus in feedgrain, oilseed and wheat markets has been that a 'buyers' market' exists, and that the current 'large stocks-low price' situation in grain markets will continue through the remainder of 2015 and into 2016 and possibly longer," O'Brien stated in his session description.

O'Brien reported that USDA is projecting record world supplies for wheat again in 2014/15, following three consecutive record wheat crops. Even though some U.S. wheat competitors are projected to see production decreases, O'Brien said that others are making up the supply difference.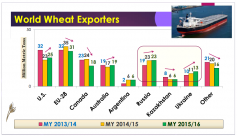 "Those that are coming are outpacing those that are going," O'Brien said. "If you are a buyer, you do not have to struggle much to find wheat to buy."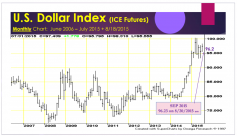 As a result, the world's wheat importers have more options to source purchases. Difficult transportation logistics due to increased oil production and record crops in the northern plains have also raised shipping costs to key markets, providing a cost advantage to competitors in the Black Sea and Australia. And, most significantly, the strength of the U.S. dollar has kept U.S. wheat more expensive than competing supplies despite declining prices.
"Wheat has suffered the most of our commodities," O'Brien said. "There are several alternative places to go in the world to get wheat."
O'Brien explained that the strength or weakness in the export market is particularly important to wheat as domestic food use is consistent and feed use for lower quality wheat varies. As a result, the largest growth opportunities for the wheat market are outside of U.S. borders.
To help increase that international demand for Kansas wheat, Kansas Wheat contributes to U.S. Wheat Associates (USW), the industry's export market development organization. USW works to emphasize the reliability and quality of the Kansas wheat crop every year. Through efforts like organizing trade team visits from the Caribbean, Peru and Nigeria this year, USW and Kansas Wheat demonstrate that while U.S. wheat may not be the least expensive option, Kansas wheat farmers will reliably produce the high quality wheat buyers need to enhance their product quality and grow their businesses.
Find a full version of O'Brien's presentation at http://agmanager.info/events/risk_profit/2015/Papers/GS1_OBrien_GrainOutlook_2.pdf.
This year marked the 20th Risk & Profit Conference, organized by the K-State Department of Agricultural Economics. The conference is intended to update key agricultural decision makers on contemporary agricultural issues. For more resources from the conference, visit http://agmanager.info/events/risk_profit/2015/Papers.asp.
By Julia Debes
---