Ediger wins yield and quality awards in Kansas Wheat Yield Contest
Posted

September 17, 2015

Governor Sam Brownback also officially awarded Ediger with the Quality Award for the contest at the Kansas State Fair on September 17, along with a $250 prize.

"Darwin's winning wheat yielded more than 100 bushels per acre and still won the quality contest. That is pretty amazing," Justin Gilpin, Kansas Wheat CEO, said. "The sample's mix time of more than 11 minutes with overall dough strength 'raised' this sample to the top this year."

Ediger's sample, along with the other entrants into the Quality Initiative component of the Kansas Wheat Yield Contest, was graded by the Kansas Grain Inspection Service and analyzed for quality by the ADM Milling Lab in Kansas City.
Start with Good Genetics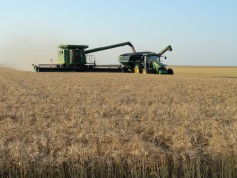 Ediger said the WB 4458 variety impressed him throughout the year, but especially during grain fill.
"WB 4458 stands well – it is a very beautiful wheat," he said. "When conditions are right, it is going to keep putting the berries on."
Ediger credited wheat breeders with developing more improved varieties each year.
"The wheat industry has changed so much in the last five or six years. It is exciting," he said. He remarked that wheat breeders are providing such great varieties that it has become harder to make selections each year – a good problem to have.
Finish with Good Management
Even the best varieties, however, cannot succeed without good management. Ediger and his son Tyler have implemented best management practices into their dryland wheat and grain sorghum operation. That includes utilizing no-till to improve soil fertility and increase organic matter, testing for nitrogen and sulfur levels each year and applying yield maps when writing prescription maps for every field. Ediger said he and his son also emphasize the importance of seed treatments to establish good root development and plant healthy from the start as well as applying fungicide early, before disease pressure starts to show. They even use a drone to spot trouble spots in the middle of fields that would not otherwise be visible.

"Each field is treated differently than the next," he said, "Good management practices are just as important for cost savings as yield increases."

Ediger's management practices are important for more than high yields. He explained that all of Ediger's wheat is used for certified seed, so aiming for top quality is imperative every year.

"Quality was bred into me since I was young," Ediger said. "You never attain 100 percent quality, but you shoot for it."

By Julia Debes

Darwin Ediger, Meade, Kansas, proved high yielding wheat can have superior milling and baking quality with his entry in the Kansas Wheat Yield Contest. His 6.48 acre plot of WB 4458 (WestBred) yielded 103.18 bushels per acre, making Ediger the winner of the Kansas Wheat Yield Contest from the Western Region.
---