Day 9, Kansas Wheat Harvest Report
Posted

June 25, 2020

This is day 9 of the Kansas Wheat Harvest Reports, brought to you by the Kansas Wheat Commission, Kansas Association of Wheat Growers and the Kansas Grain and Feed Association.

Kyler Millershaski, who farms near Lakin in Kearny and Wichita counties, reports that harvest began June 22. Their wheat is yielding in the mid-30 bushels per acre, and test weights are about 60 pounds per bushel. Protein has been variable at 9-12%. He says they aren't as far into harvest as they'd like to be, but they are moving quickly and should be wrapped up by the middle of next week. They missed out on some of the rains, receiving only up to 5" during the growing season, well below the average of 18" per year.

Jeff Boyd from Garden City Coop in Finney County, says harvest has gotten off to a slow start, officially beginning for them on June 23, with a few early loads before that.

Boyd said, "Farmers are really starting to get into it now. We had a big day yesterday." He said harvest will go quickly, and they should be wrapped up by July 4.

Their Dighton area received rain last weekend, but there was less moisture south in their Garden City and Ulysses locations. Typically, harvest begins in their Ulysses location, then Garden City and then Dighton, but this year, all three got started about the same time. Planting date is having the largest impact on the crop; if it had fall growth, it is performing much better than fields that didn't emerge until spring.

Overall receipts will be below average for the company, especially in the Ulysses location. Part of the reason is fewer acres, but this is also caused by a dryer weather pattern and reduced yields this year. Test weights are averaging about 60 pounds per bushel, and protein is in the 12s.

Boyd said it's too early to predict how many acres of wheat will be planted this fall, stating that it will come down to price. With corn prices low, farmers may think about wheat. But, dryland corn is working in the area. Even though they are short on moisture, some fields of corn still look good. There's a lot that could change between now and fall harvest, and they will need to receive some timely rains.

Stafford County farmer John Hildebrand reports that his wheat is yielding just as expected in the low 50s. His wheat was ready to cut on June 16, but the moisture was too high. He then received 5 inches of rain over the weekend, which dropped his test weights to 59 pounds per bushel. Protein is below average.

Paul Penner who farms near Hillsboro in Marion County, reports that he is just a couple of days into harvest. He received almost 2" of rain last week, which made his fields wet and muddy. Now that they've dried out, he is seeing average yields of 50 to 60 bushels per acre. However, due to the dry, hot weather and strong winds during grain fill, he estimates that his area probably lost up to 10 bushels per acre during that time.

"The three weeks of drought during filling really hurt the wheat," he said. "Some of the stand died from heat stress." Test weights are 58 to 59 pounds per bushel. He reported some surprising freeze damage that he wasn't expecting, because he thought his area had escaped it. However, the yield monitor really drops in the low spots.

The only variety he has harvested yet is Kansas Wheat Alliance's Zenda, and he reports that it is doing well. Harvest for Penner should be complete by the end of next week, depending on if they receive any showers.

The 2020 Harvest Report is brought to you by the Kansas Wheat Commission, Kansas Association of Wheat Growers and the Kansas Grain and Feed Association. To follow along with harvest updates on Twitter, use #wheatharvest20. Tag us at @kansaswheat on Facebook, Instagram and Twitter to share your harvest story and photos.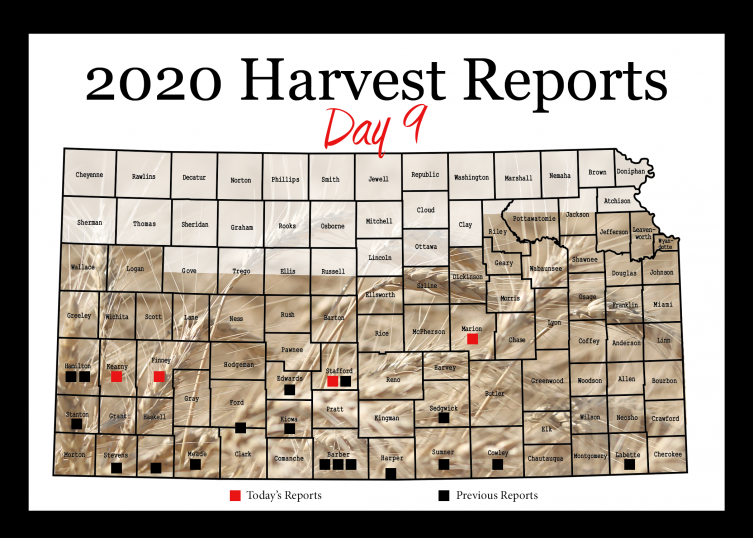 ---