Day 6, Kansas Wheat Harvest Report
Posted

June 28, 2015

This is day 6 of the 2015 Kansas Wheat Harvest Reports, brought to you by the Kansas Wheat Commission, Kansas Association of Wheat Growers and Kansas Grain and Feed Association.

When you don't like the weather in Kansas, the old saying goes "Wait twenty minutes and it will change." According to farmers across the state, time isn't the only thing that makes a difference with weather and precipitation. Farming conditions can vary greatly within the distance of even just a few miles. While farmers in areas of western Kansas have been pretty dry in the last few weeks, eastern Kansas farmers are facing mud.

Lane County farmer Ron Suppes reports a 40 bushel an acre average where his wheat crop was not hit by hail. Spots with hail damage may average 15-20 bushels an acre. Since last week's rains missed Suppes' area, he reported that test weights have remained steady at around 62 pounds per bushel.

"There's been no such thing as a normal crop in our area in the last ten years," Suppes said. "But this seems to be a pretty good year as a whole."

Suppes' proteins are varied, with some of the more stressed wheat bringing 13-14 percent protein content and the while the normal average is 11 percent.

"In April we thought we had a blowout," said Suppes. "But now we are seeing triple what we had originally thought in some areas."

Jared Wendelburg, a Stafford County farmer, relayed the difference just a few miles can make. Averages from the ground south of Highway 50 were around 30 bushels per acre while the average north of Highway 50 was around 50 bushels an acre. Test weights however have taken a hit from recent rains and have hovered around 58 pounds per bushel.

Crawford County farmer Jim Michael reports that area farmers are facing mud after last week's rains.

"We had to get out of field yesterday," said Michael. "It looked like if we kept pushing through we would get stuck."

Yields in the area are extremely variable, with Michael reporting outliers of 30 and 70 bushels per acre. Test weights are running in the mid-50's to the low-60's. He estimates that many farmers in the area will be wrapped up in another week.

The 2015 Harvest Report is brought to you by Kansas Wheat Commission, Kansas Association of Wheat Growers and Kansas Grain and Feed Association.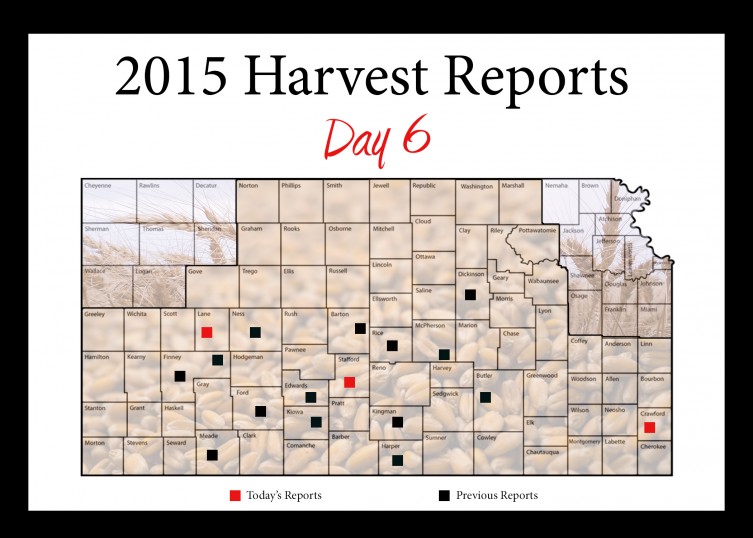 ---