Day 18, Kansas Wheat Harvest Report
Posted

June 30, 2016

Editor's Note: The next Kansas Wheat Harvest Report will be published on Tuesday, July 5, 2016.

____________________________________

This is day 18 of the Kansas Wheat Harvest Reports, brought to you by the Kansas Wheat Commission, Kansas Association of Wheat Growers and the Kansas Grain and Feed Association.

There's still a lot of wheat left to be harvested in southwest Kansas. Rains Tuesday night and Wednesday kept farmers out of the fields on Wednesday and Thursday, and the wheat is ready to be cut. Driving through the countryside, the majority of the fields have wheat still standing or laying over from the large kernels and weak straw and the unusual amount of rain. Moisture levels are still too high to cut in some areas through Thursday afternoon. Additional rainfall is forecast over the holiday weekend. Water can be seen standing in low places in areas where locals haven't seen water for decades.

Kendall Poland of Sublette Coop. Inc in Haskell County, reports that they are still less than 40% done in their area. Harvest began on June 17, but following the last few rains, test weights have decreased to the upper 50s. They received rain Tuesday evening and Wednesday, and weren't taking any wheat on Wednesday and Thursday, as it was too wet for farmers to be cutting wheat in the area.

Protein levels are the upper 11s and some farmers are reporting yields in the 80s, which is unheard of for the area.

Poland reported that this year's yields are the biggest ever seen in the area. "Nobody has ever really cut 80 bushel per acre dry land consistent wheat," he said.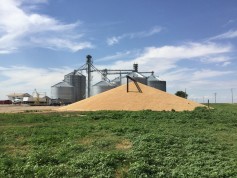 Ed Bemis from United Prairie Ag in Lakin reports that harvest began about June 18 and was pretty busy for about two weeks. Since Tuesday's rain, there hasn't been much wheat coming in, although their Lydia location which is farther north has seen some wheat come in on Thursday. Bemis reported that test weights have been good, from 62-65 pounds per bushel. Protein is below average and some guys are reporting yields in the 65-75 bushel per acre range. He estimates that the area is 70% completed. The Lydia location has wheat piled on the ground, with still another week of harvest to go. Local forecasts are calling for some flash flooding over the night Thursday.
Rain also pushed into northwest Kansas this week, keeping harvest from getting a full-speed start.
Brian Linin, a wheat farmer from Goodland, reports, "Tuesday we had a decent day of cutting, and the wheat was making around 100 bushels per acre, testing 62-63 pounds per bushel, and moisture content was around 12.5%."
He reported a large storm moved through the area Tuesday night, and they received about an inch of rain. Since then, it has been partly cloudy and humid. They are expecting more rain over the next few days, so Linin estimates that harvest will resume on Monday.
"We are just barely started here, probably 5% complete, if that," he said.
For exclusive #wheatharvest16 content and more, please head to facebook.com/kansaswheat.
The 2016 Harvest Reports are brought to you by the Kansas Wheat Commission, Kansas Association of Wheat Growers and the Kansas Grain and Feed Association.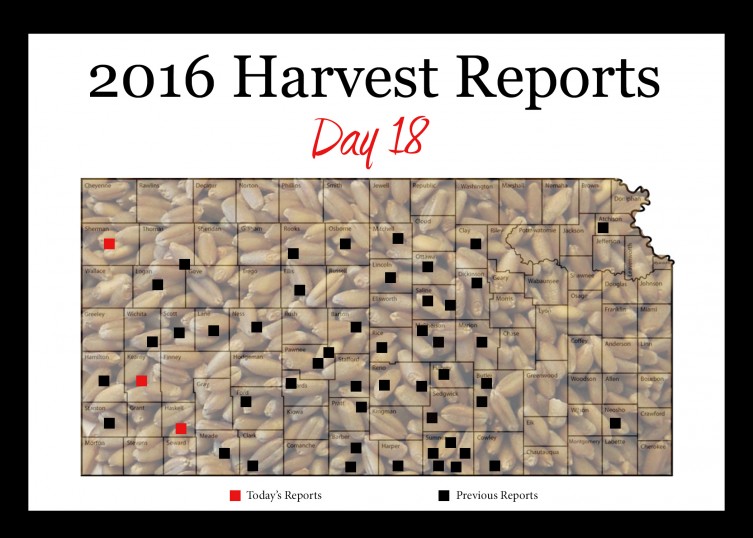 ---