Day 14, Kansas Wheat Harvest Report
Posted

June 26, 2016

This is day 14 of the Kansas Wheat Harvest Reports, brought to you by the Kansas Wheat Commission, Kansas Association of Wheat Growers and the Kansas Grain and Feed Association.

Rain seemed to be the theme nearly statewide over the weekend as combines came to a stop and other thirsty crops took a drink. #wheatharvest16 on Twitter shows an increasing number of Kansas farmers wrapping up their wheat harvest, while some farmers in northwest Kansas are chomping at the bit to get started.

Melanie Eddy, a farmer from Syracuse, reported that her family's harvest has had a stuttering start with various rainfalls in the last week. However she said that her family still has 10 days left of cutting, provided that they get the dry weather to do it.

Yields have averaged around 70 bushels an acre, a total that has been unheard of in the area for the last several years.

"I think we had one year where we averaged 12 bushels an acre, thanks to the drought," said Eddy. "I'm sure that if you added up the last five years' worth of averages you wouldn't even hit 70 bushels an acre."

Beloit farmer Michael Jordan reported having a grim outlook for this year's harvest, but that all changed thanks to some well-timed rains.

"We weren't really expecting much of a crop at all," said Jordan. "We only had about one inch of precipitation from the beginning of the year to the end of April, so we were sure it was a gonner. Then we got 15 inches of rain in five weeks, so now it's not too shabby, even with some hail damage."

Jordan said that one field was averaging 71 bushels an acre, even with 20% hail damage.

Ken Wood, a farmer from Chapman, reported that his fields he has been able to harvest have been better than average.

"The real story down here is that harvest was very slow going this year," said Wood. "A lot of the wheat was knocked over flat on the ground, and there was even some green looking wheat, so we've had to chew through it all."

Wood's farm was one of the many affected by the Chapman tornado in May. Cutting near the areas affected by the tornado has been a challenge over the last few days since dodging debris is not one of the many strengths of combines.

"We weren't able to harvest some areas of fields just because there were too many large pieces of debris; it just wasn't worth it," said Wood. "The area in the vortex of the tornado looked like it had already been harvested by a stripper header; the heads had just ripped off."

For exclusive #wheatharvest16 content, and more, please head to facebook.com/kansaswheat.

The 2016 Harvest Report is brought to you by the Kansas Wheat Commission, Kansas Association of Wheat Growers and the Kansas Grain and Feed Association.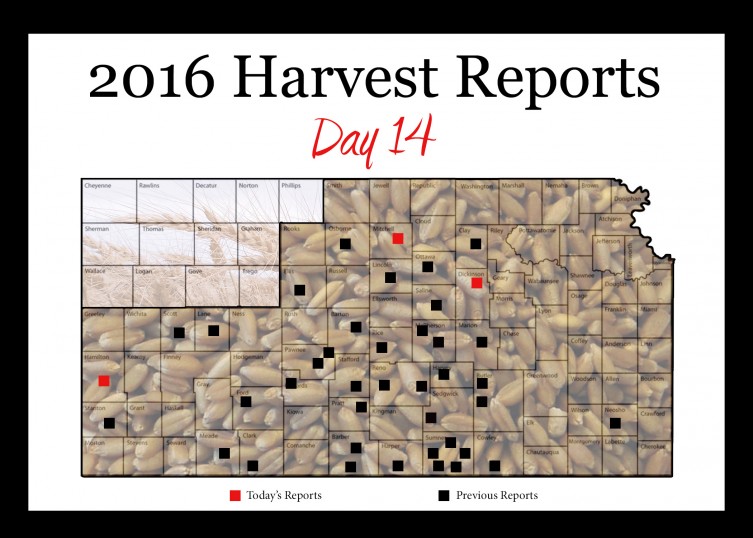 ---