Darn Good Pancakes, Even Better Advocacy
Posted

March 19, 2015
Kansas Commodity Groups Host 20th Annual Legislative Pancake Feed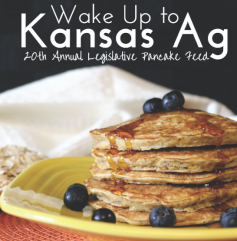 Members of the Kansas State Legislature ventured out in the early, drizzly day on March 19 to enjoy pancakes and sausage with Kansas farmers at the 20th Annual Legislative Pancake Feed just across the street from the Kansas State Capitol.
"This is our opportunity to talk about the most important aspect of the Kansas economy – agriculture," said Justin Gilpin, chief executive officer of Kansas Wheat. "And we are able to emphasize that with some darn good pancakes."
This year marked the 20th annual iteration of the event and was sponsored by the Kansas Association of Wheat Growers, Kansas Soybean Association, Kansas Corn Growers Association and Kansas Grain Sorghum Producers Association. Members of each group were able to interact with not only their own legislators, but representatives of both urban and rural districts stretching from Goodland to Overland Park.
"The agricultural economy extends well beyond the farm," said Mike Jordan, president of the Kansas Association of Wheat Growers and farmer from Beloit. "With increasing urbanization, this breakfast provides a chance for contact with those urban legislators, as well as meeting up with familiar faces."
According to the Kansas Department of Agriculture, agriculture accounts for 37 percent of the Kansas economy. Even more specifically, the Kansas wheat industry contributed about $3.6 billion to the Kansas economy in 2013 and supports about 30,000 Kansas jobs across the state. But, as the Kansas wheat farmers in attendance will attest, sometimes communicating those statistics to the State Legislature is a little easier when sharing a breakfast together.
"It is good to see legislators in a social setting," said Ken Wood, Kansas Association of Wheat Growers vice president and farmer from Chapman. "This is a slice of morning where all they have to do is focus on eating breakfast."
By Julia Debes
---