Consistency is key to top U.S. wheat market
Posted

December 9, 2014
Japan is largest buyer of U.S. wheat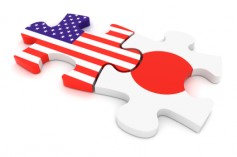 Japan may be halfway around the world from Kansas, but the country's status as the largest consistent buyer for U.S. wheat helps underpin global demand and cash price for Kansas hard red winter (HRW) wheat. 
Overall, Japan purchases roughly 10 percent of all U.S. wheat exports each year. That includes imports of three wheat classes – HRW, soft white and hard red spring. In turn, U.S. wheat constitutes 57 percent of Japan's total annual wheat imports. 
For HRW wheat, Japan is the fourth largest buyer on average. In 2013/14, Japan imported 3.3 million bushels of HRW, representing 7 percent of all HRW exports and 4 percent of all HRW production that year. 
The Japanese market is highly quality conscious and values the reliability and choices provided by the U.S. wheat supply chain from farm to port. As a result, Japan issues large tenders for U.S. wheat on a consistent basis through its import state-trading enterprise. The Ministry of Agriculture, Fisheries and Forestry (MAFF) purchases nearly all of Japanese wheat imports and then sell it to Japanese flour mills. 
Japanese millers are highly sophisticated and efficient, with the ability to produce up to 500 different products daily. Shawn Campbell, assistant director of the U.S. Wheat Associates West Coast Office in Portland, OR, explained that Japanese millers primarily use HRW for noodle production. Blending HRW with Australian noodle specific varieties helps lower costs. 
Some HRW imported by Japan is used as feed wheat. Campbell explained this provides a market for lower protein HRW as Japan has a minimum protein specification of 11.5 percent protein, compared to the 12.0 percent protein minimum specifications of most international HRW buyers. 
Today, Japan sources the majority of wheat purchases from ports in the Pacific Northwest. While a significant portion of the HRW Japan purchases is grown north and west of Kansas, the volume of its imports raises demand, and price, for all HRW farmers. 
 "Without the Japanese, farmers in states like Montana would be forced to sell HRW at a much discounted price in order to compete in the domestic market," Campbell said.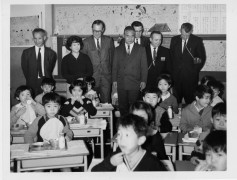 It is important to note that this successful relationship would not have been possible without the efforts of U.S. wheat farmers. In 1949, farmers from Oregon traveled to Japan to discover how to expand wheat sales. The resulting educational and marketing activities included a rural school lunch program called "Kitchen on Wheels." U.S. Wheat Associates, the industry's export market development organization, continues that work today on behalf of all U.S. wheat farmers. 
By Julia Debes
---