Certified seed helps control pests, diseases
Posted

May 28, 2015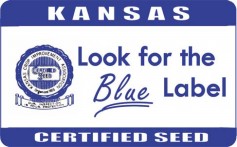 Seeds planted by farmers are the important bases of what they produce. Those seeds grow into the crop that will eventually be harvested, but how does a farmer know exactly what variety he is planting and if it will even grow? Certified seed gives producers confidence in their crop by providing recognized proof of grain's parent seed identity.
All certified wheat seeds produced and sold are tested by the Kansas Crop Improvement Association (KCIA). The certification process and high standards set by members and enforced by KCIA ensure that the seeds are of high quality and suitable for growing by the producer. The seeds are required to pass field inspections and are tested for varietal purity, germination ability, diseases and contaminants.
"The biggest advantage of certified seed is that we strive to provide farmers with the specific wheat variety they want. Wheat varieties differ in disease resistance, yield, and factors such as stalk length," said Steve Schuler, Executive Director of the Kansas Crop Improvement Association. "With certified seed farmers have the ability to choose the seed they believe will work best in their fields."
Ten-pound samples for every 5,000 bushels of grown certified seed are sent to KCIA for purity and germination analyses to see if the seeds meet KCIA standards. The purity tests assure farmers that they are planting the specific wheat variety selected and quality factors such as germination ability show that the seed has not been damaged by heat.
Along with being tested the seeds are conditioned and may be treated upon producers' request. Certified seeds must meet the minimum requirement for contaminants of inert matter such as bugs, chaff, other crop seeds and weeds. These requirements reduce the risk that new weeds will be introduced to a producer's field.
The seed treatments contain insecticidal protection against soil insects and fungicide to control seedling diseases. Applying these treatments reduces management concerns because healthy seedlings take a more successful stand and better tolerate stress conditions such as drought or freezes.
"Farmers not only have the convenience of not having to store, manage and condition their seeds, but certified seed also gives farmers access to the newest varieties and the convenience to go and buy a seed of known variety," said Schuler.
When a new wheat crop variety is first developed the seed is normally in short supply. The seed must be increased sufficiently to meet demand. KCIA is closely involved in every step of certified seed increase and distribution. They work with the plant breeders and become familiar with the unique characteristics of each variety.
"This year the rain and cool weather has really bumped up yield estimates and the estimated yield for in the fall of certified seed," said Schuler. "In the past we have had some tight years, but we always have had enough."
Various ways are used to move seed to farmers by either bulk retailers or distribution for convenience. Wholesale dealers are able to move certified seed from more abundant areas to areas of demand. KCIA is also available to help producers locate seed for specific varieties.
"Seed growers are proud of their certified seed and the importance of the wheat industry to Kansas," Schuler said.
To view the 2014 Kansas Wheat Seed Book that includes the certified seed directory, PVP, approved conditioners and the Kansas State University performance data visit http://www.kscrop.org/seeddirectories.aspx.
By Audrey Schmitz, Kansas Wheat Communications Intern
Originally published by Kansas Wheat Alliance. Reposted with permission.
---