Vice President of Communications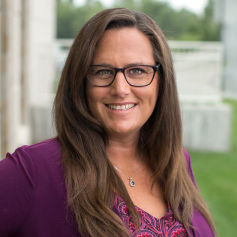 Marsha Boswell has been with the Kansas Wheat Commission and the Kansas Association of Wheat Growers since January 2014. During that time, she has overseen the development of new logos, branding campaigns and website redesigns. She is the 2016 recipient of the International Association of Business Communicators (IABC)/Topeka Communicator of the Year award.
Previously, Boswell was Public Relations Specialist for Kansas Wheat from 1999 to 2008. During her first tenure, Boswell was instrumental in the development of the Kansas Wheat Commission's anniversary book, Kansas Gold: Historical Notes and Heritage Recipes from the First Fifty Years of the Kansas Wheat Commission.
In 2008, Boswell began working at Washburn University School of Law, where she was Director of Marketing Communications. At Washburn Law, she managed production and design of printed materials, developed and implemented communication strategies, and oversaw the complete overhaul of the website.
Boswell is a 2008 graduate of Kansas State University's Master of Agribusiness program. Her thesis was on Determining Effective Communication Strategies for Kansas Wheat Producers to Improve Willingness to Pay for Services. She serves as past conference co-chair for the Women Managing the Farm Conference and as chairman of the Kansas Farm Food Connection. She has served on the boards of IABC/Topeka and Kansas Foundation for Agriculture in the Classroom. 
mboswell[at]kswheat.com
---