Kansas Wheat Commission Research Foundation
Investing in the future of wheat genetics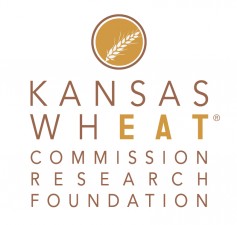 Gifts to the Kansas Wheat Commission Research Foundation provide vital support for funding wheat research to improve the efficiency and productivity of Kansas wheat farmers while providing greater global food security.
The KWCRF was established in 2011 as the official fundraising organization for the Kansas Wheat Commission. The Foundation works to raise private dollars to combine with public funds for the advancement of wheat research including the accelerated release of wheat varieties. 
The KWCRF is a separate, independent entity chartered by the state of Kansas as a 501 (c) (3) nonprofit research corporation. Gifts to the Foundation are tax deductible.
We accept many types of gifts to support the mission and purpose of the Kansas Wheat Commission Research Foundation. These include current gifts, such as cash or stock transfers, and deferred gifts, such as will bequests. Please note, some donations require approval from our Gift Acceptance Committee. 
You can make gifts in a variety of convenient ways, including online, over the phone, via mail and in person. We will gratefully accept donations in any amount. For more information on how a gift can be made, contact us at 785-539-0255 or by emailing tmcclellan@kswheat.com. Our mailing address is KWCRF, 1990 Kimball Ave., Manhattan, KS 66502.
How to Donate
Credit Card
You can make a gift today through your Visa, American Express, Discover or MasterCard. Your donation can be made online by clicking here or by calling us. 
Cash or Check
If you would like to make a cash gift, we accept checks, cash, money orders, bank drafts and bank wires. Please make your check payable to the Kansas Wheat Commission Research Foundation.
Pledge
Your gift can be pledged with a quarterly or annual contribution. You can establish your pledge by contacting us at 785-539-0255. You may fulfill your pledge through a variety of payment methods. 
Non-Cash
You can also support the KWCRF in many other ways. The Foundation accepts non-cash gift including:
Gifts of grain.
Securities such as stocks, bonds and mutual funds.
Real estate, including both present and future interests.
Oil, gas and mineral interests.
If you have questions about any in-kind gift item that is not listed above, please contact the Foundation to discuss.
Memorial Gift
The KWCRF provides opportunities to honor the memory of a loved one involved in the wheat industry by naming facilities. Gifts may be made by an individual donor or by a group of people.
Matching Gift
Some companies encourage their employees to donate to the charitable entity of their choice by matching their gift. Before making your gift, check to see if your company provides matching contributions. 
Estate Planning
There are many options for leaving your legacy through planned gifts to the KWCRF. Some of these are:
Bequests through a will or trust.
Designating the KWCRF as the beneficiary of a retirement plan or life insurance policy.
Utilizing a gift model such as a charitable gift annuity, charitable unitrust or IRA rollover.
We have many resources to assist you making plans for a legacy gift, including meeting with a certified estate planner who can provide a number of tools for you to consider.
Recent news