From the fields of Scandinavia to the flat lands of Russia, from the vales of Europe to the prairies of the United States, straw crafts and wheat waving have long been traditional and artistic parts of many cultures.
For some a religious aspect was applied to show thankfulness at the end of harvest. Celebrations included church services, festivals and the making of decorations from the crop.
Others used straw art to honor births, marriages, graduations, and remembrances of departed loved ones. Practical reasons also found Kansans making straw hats for summer wear, baskets for gathering, and twisting straw rope to bundle the wheat sheaves at harvest time.
Today finds our straw crafters and artists creating for many of these reasons. We use traditional patterns, find pleasure in variations, and draw upon our creative talents to create new designs and contemporary art. Many of these artists are members of the National Association of Wheat Weavers.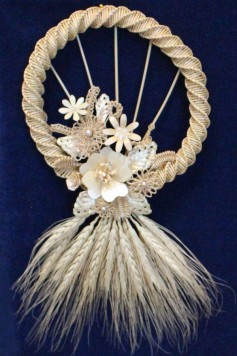 Gladys Brockway
McPherson
620-241-4365
jgbrockway63@cox.net
Hearts, Windmills and Floral Designs
Dianne Gardner
North Central Kansas
785-794-2464 
dianne_gardner@yahoo.com
Dolls, Wall Hangings, Bundled Wheat    
Felice Goering
Central Kansas
620-345-8333
cgoering@mtelco.net
Wheat Weavings, Jewelry such as pins, necklace, and earrings
Donna Morgenstern
Central Kansas
785-825-0143
Straw sculptures and wall hangings    
Rita Peterman
McPherson Kansas
620-241-6359
Dolls, wall hangings and floral designs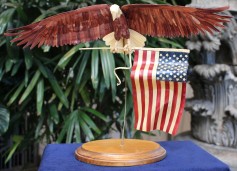 Marian Vavra
South Central Kansas
316-776-0661
mbvavra@powwwer.net
Straw Art such as Wall Hangings, Ornaments, Crosses
Peggy Willcut
South Central Kansas
316-943-0033
peggywillcut@sbcglobal.net
Wheat Weavings
---