Secretary Treasurer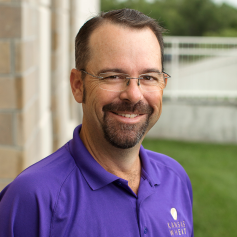 Sharing the stories of good harvests and not-so-great ones with legislators is one reason Chris said he has stayed involved in organizations like Kansas Farm Bureau since early on in his farming career.  He joined the KAWG board of directors in 2016.
"It is easy to stay on the farm and bury your head, but it is important to stay involved in any of the commodity organizations to get your voice heard," he said. "Our legislative representatives do not know what troubles we are having on the farm unless we tell them."
Staying abreast of larger agricultural issues was emphasized early to Chris during his high school involvement in FFA. Because he moved home to farm his grandfather's land straight out of high school, he emphasized viewing involvement in agricultural organizations as his continuing education.
Today, his fully no-till farm encompasses more than 3,000 acres of wheat and corn in addition to a beef operation and custom planting and harvesting for others in his area. As his operation has grown, so has that involvement. Initially approached by a neighbor while fueling a tractor, Chris agreed to join the county Farm Bureau board before serving on the Young Farmers and Ranchers Committee and now as the District 10 representative on the Kansas Farm Bureau Resolutions Committee.
Chris also serves on the board of the Kansas Agriculture and Rural Leadership (KARL) program, a two-year intensive education, training and travel program – more of that continuing education. Chris was a member of Class XI, which traveled to Peru as part of their program. Chris said there, agriculture is very different, but the spirit of farmers remains the same everywhere.
---