Kansas is often the top-wheat producing state in the nation. This puts the wheat breeding program at Kansas State University at the heart of wheat production in the United States. 
The goal of the wheat breeding program is to develop and release new public hard winter varieties through the Kansas Wheat Alliance. Some germplasm lines are also released, in conjunction with the USDA wheat genetics program based on the K-State campus. The program focuses on the following traits:
High grain yield
Minor gene, durable resistance to leaf rust and stripe rust
Heat and drought tolerance
Resistance to Fusarium head scab, barley yellow dwarf, and Hessian fly
High quality for pan bread and noodle making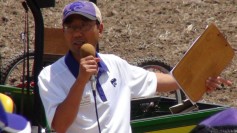 There is an extensive team of cooperators in the wheat breeding efforts at K-State. The main breeding team works with the world-class Wheat Genetics and Genomics Center on genomic mapping and marker-assisted breeding. Other cooperators include the USDA wheat genetics program, the Hard Red Wheat Quality Laboratory, wheat programs in the Plant Pathology and Grain Science Departments, and an associated wheat breeding program at K-State's Agricultural Research Center-Hays.
Wheat breeding receives generous funding for its efforts from the Kansas Wheat Commission, Kansas Crop Improvement Association and Kansas Wheat Alliance. There is tremendous producer support in the state and region for K-State's wheat varieties and breeding program. The program has extensive greenhouse space, growth chamber facilities, and research plot acreage for screening of preliminary and advanced lines at 9 locations in Kansas and one location in Texas.
Thanks to wheat breeding programs like the one at Kansas State University, producers have ever-improving options of wheat varieties to plant. Whether it's improved resistance or increased yields, wheat breeders are creating varieties that meet producers' changing needs.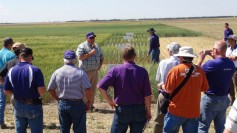 "We spend a lot of time chasing the next rust resistance," said Allan Fritz, wheat breeder at K-State. In a matter of a few years, a variety's resistance that took so many years to breed begins to fade, and a new variety takes its place, he said.
Wheat breeding is partially responsible for yields more than doubling since the first Kansas wheat crop was planted in Johnson County in 1839. The varieties being planted were mostly from Europe or the eastern United States, and not suitable to Kansas conditions and environment.
While spring wheat dominated in earlier times, the delayed maturity left it vulnerable to rust diseases and the hot, dry conditions of Kansas summers. Yields remained low, averaging less than 20 bushels per acre, until the early 1900s when the K-State breeding program began gaining momentum.
Since then, K-State has released more than 40 wheat varieties, each a step forward in some capacity over previous varieties.
"The data now suggest that we're making about a one percent per year gain in yield," Fritz said. "At the same time, I think we've been improving not just the quality, but the stability of quality across environments."
"I always say I work for K-State, but I also work for Kansas wheat farmers because they're the ones funding a lot of what we're doing," Fritz said.
---