Yield projections increase on second day of Wheat Tour
Posted

May 6, 2015

Rolling waves of grain and tornadoes are the ultimate Kansas stereotypes, and mother nature was happy to provide both today to some Hard Red Winter Wheat Tour participants. The tour, sponsored by the Wheat Quality Council, roamed through Kansas for the second day on May 6th, trekking on six different routes from Colby to Wichita.
The convoy was comprised of 21 separate vehicles carrying 92 participants from all over the globe, including some who saw their very first tornado on Wednesday evening thanks to the severe weather in the Wichita area. The scouts stopped at 305 fields along their routes, an increase from yesterday's 284. The day two average estimated yield for the areas visited is 34.5 bushels an acre, an increase from last year's 32.8 bushels an acre.
As the scouts traveled south of Colby, they quickly began to see some of the most drought stricken wheat in the state. The south western portion of the state showed an estimated range from 0-18 bushels per acre. However, when the participants turned east, they began to see some of the best looking wheat so far in the tour. The stretch from Dodge City to Wichita showed a stronger potential, with most fields averaging from 35-50 bushels per acre.
"A worrisome thing that I saw was the amount of stripe rust along these routes," said Romulo Pisa Lollato, the future wheat and forages extension specialist for Kansas State University. "We found stripe rust in five out of six samples between Dodge City and Kingman County, and it concerns me because of the area's good yield potentials."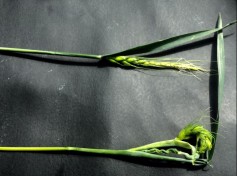 While rain means good things for a wheat crop, one must remember that what is good for the wheat is good for disease as well. Other issues spotted along the way were wheat streak mosaic virus, winter kill, hail damage and the elephant in the room, drought stress.
"In my area double crop wheat acres will have low yields, if they haven't been taken out already," said Scott Van Allen, a farmer in Sumner County, the largest wheat producing county in the state. "There is some really nice looking wheat, but there is also some wheat that just couldn't make it with the lack of moisture. But what did hang on, the rain has helped 100 percent, so I am still optimistic.
To stay tuned to all things Wheat Tour, follow the conversation at #wheattour15 on Twitter, Facebook and Instagram.
Story and photos by Jordan Hildebrand
---