Take me out to the ball game... For a hot dog (with a bun)!
Posted

April 28, 2015
America's favorite pastime is back and we at Kansas Wheat are cheering on our Kansas City Royals. As baseball fans pack stadiums across the country, Kansas wheat farmers have another reason to celebrate – the opening of baseball season also signals the kickoff of hot dog season. And, after all, what is a hot dog without its bun?
According to the National Hot Dog and Sausage Council, "baseball fans will consume more than 18.5 million hot dogs and nearly 4.2 million sausages during the 2015 Major League season." By our count, that is 22.7 million buns.
Need a better visualization? That many hot dogs stacked on top of each other "would reach as high as 7,827 Empire State Buildings." Now add the buns.
Meat and Bread – Why Not?
Eating a hot dog in the stands while attempting not to spill sauce all over your favorite shirt dates back to 1893. That year, Chris Von de Ahe, German immigrant and owner of the St. Louis Browns, is rumored to have brought hot dogs to the ball park.
But, using a bread roll to prevent the hot meat – think red hots – from burning your skin dates back even further. While the exact origins of bread meeting bun are unknown, the National Hot Dog and Sausage Council lists two possible founders. In the 1860s, a German immigrant reportedly sold milk rolls and sauerkraut from a cart in New York City. But, in 1871, a German butcher opened the first Coney Island hot dog stand.
Either way, Americans at large were finally introduced to the hot dog in 1893, when the Colombian Expositions brought large crowds to Chicago where they were introduced to the fast food.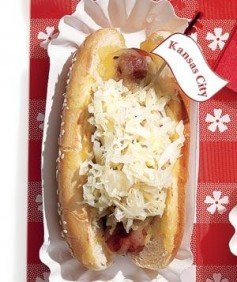 Find Your Flavor
Today, variations on the meat, bread and toppings theme abound. The National Hot Dog and Sausage Council lists the official Kansas City Dog as a hot dog topped with sauerkraut and melted Swiss cheese on a sesame seed bun.
Need more carbs? Visit Wrigley Field for a Mac and Cheetos Dog – a Vienna hot dog topped with mac and cheese and Cheetos. Or if pretzel bread is more your style, join Pittsburg Pirates fans to chomp down on a Cuban Pretzel Dog – a foot-long hot dog topped with pickles, Dijon mustard, ham, pulled pork and Swiss cheese.
For more information on all the hot dog and bun variations available at America's baseball stadiums, check out the National Hot Dog and Sausage Council facebook page - https://www.facebook.com/NHDSC.
And Go Royals!
by Julia Debes
---