How to track the Kansas wheat crop
Posted

March 30, 2015

The sun is shining, the wind is blowing and everyone wants to know how the wheat is doing after breaking dormancy. Throughout the growing and harvest season, these USDA resources provide a glimpse into potential for this year's crop.

USDA National Agricultural Statistic Service (NASS) will not publish the first national Crop Progress Report until April 6, 2015, which will include information from each state. But, the Kansas NASS office has been reporting on winter wheat crop conditions since the beginning of March. The Kansas Crop Progress and Condition report includes precipitation and field activity information as well as topsoil and subsoil moisture conditions and winter wheat ratings. Find the most recent report here.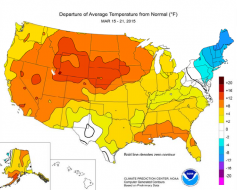 For weather and climate information, check out the Weekly Weather and Crop Bulletin, jointly prepared by the U.S. Department of Commerce, National Oceanic and Atmospheric Administration and USDA. The report includes precipitation, temperatures, drought conditions, soil temperatures and other climatic information. In addition, this report provides precipitation and weather events around the world, providing a sneak peek at potential climatic issues affecting crops in competitor nations. The report is published weekly
here
.
And the Wheat Quality Council Hard Winter Wheat Tour will survey wheat crop conditions across the state May 4 to 7, 2015. Follow along with Kansas Wheat, traders, farmers, buyers and media as the tour attempts to predict wheat yields from Manhattan to Colby to Wichita and back again with daily reports here at kswheat.com and tweets on the go at https://twitter.com/kansaswheat.
Stay tuned as the green tillers grow. After all, harvest is only a season away! 
By Julia Debes
---